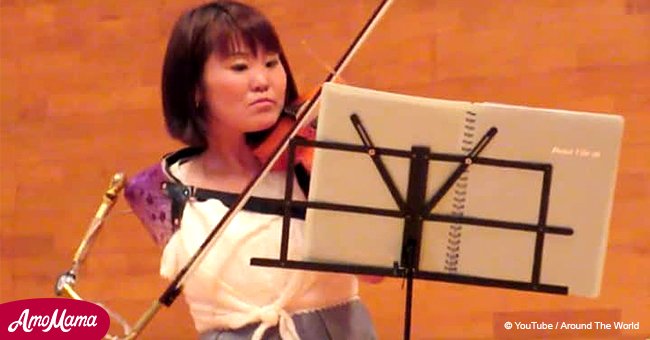 Woman lost arm in crash, but her violin performance will inspire you to chase your dreams
A 33-year-old Japanese nurse named Manami Ito lost her right arm in a car crash, but this unfortunate incident didn't stop her from achieving her dream of becoming a famous violinist.
A video uploaded on YouTube shows the talented nurse skillfully playing a violin with her artificial arm at the Takarazuka City General Welfare Center in Hyōgo Prefecture, Japan.
Manami has been impressing music lovers with her talent, more so because of her disability. It was in 2004 when a tragic road crash led to her right arm being amputated.
Follow us on our Twitter account, @amomama_usa, to learn more and scroll down to watch the video below.
Losing an arm is a major blow by any standards, but Manami carried on. She didn't wallow in misery and hopelessness. For her, life goes on.
BECOMING A CERTIFIED NURSE
She continued her studies until she became a certified nurse, all the while undergoing physical therapy.
As if becoming a certified nurse wasn't enough, she decided to learn swimming three years after losing an arm.
She was inspired by other amputees who succeeded in the world of sports, including basketball.
During the 2008 Paralympics in Beijing, she placed fourth in swimming. She placed eight in the 2012 London Paralympics.
Aside from excelling in sports, Manami also set her eyes on conquering the world of music. She picked up a violin and started learning how to play it with her prosthetic arm.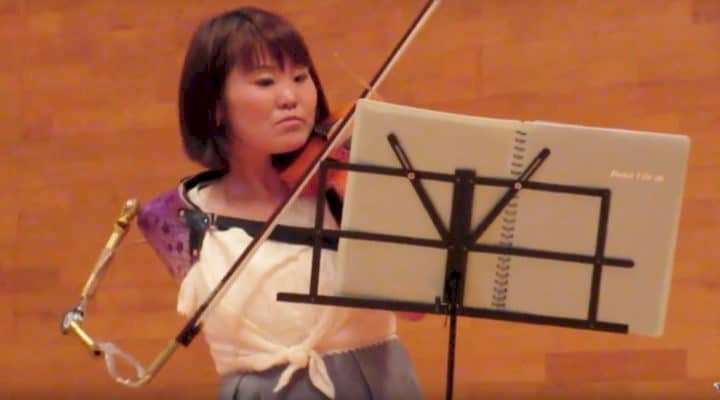 Source: YouTube/Around The World
Years later, Manami replaced her traditional prosthetic with a specially designed prosthetic arm that is much more lightweight and ultra-functional for playing the violin.
JAPAN'S ONLY ONE-ARMED VIOLINIST
She endeared her whole country with her fighting spirit. When she's not in sporting tournaments, she plays violin in musical shows around Japan. Being the country's only one-armed violinist, Manami holds a special place in the Japanese people's hearts.
Manami's inspiring story is reminiscent of Jared Watson, a 16-year-old with Spinal Muscular Atrophy.
Jared is following his dreams after his musical performance reached several social media platforms.
While many people would let their diseases get to them and bring them down, the young man refused to do so and faced his fears in 2017, when he applied for his high school's talent show.
Watson didn't win; in fact, he managed to snag the third place in the competition, but he was still happy with his performance, which opened a few doors for him.
Please fill in your e-mail so we can share with you our top stories!