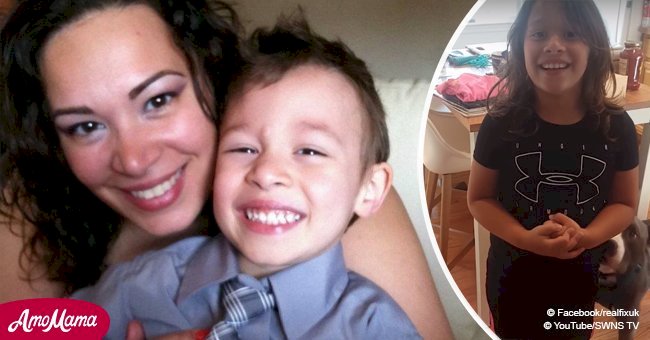 6-year-old boy comes out as transgender inspiring mom's boyfriend to start his own transition
The courage and bravery of a child can inspire those around them to tap into their own courage to be who they truly are.
Arianna Quizhpi was born Jorge and raised as a boy, but didn't identify with the male gender. Her mother Jasming Arche, 33, noticed from an early age she would draw herself as a female figure and protested against things like having her hair cut short like a boy and would light up when she tried on her stepsister's clothes.
Jasming, an energy healer identifies as being pansexual and defined as a person who is romantically or emotionally attracted to others regardless of the sex or gender, asked Arianna 6 years old at the time if she enjoyed being a boy. The answer was no. That marked the beginning of Arianna's journey as a transgender.
Read more on our Twitter account @amomama_usa.
Her mother Jasming had split from Arianna's dad and was living with her girlfriend Jennifer Hull. The courage Arianna showed at such a young age to be true to herself inspired Jennifer to do the same, and two weeks after announced that she was transgender as well. Both began their transitions in middle 2016 and while Jennifer has legally changed her name and gender to Braxton, Arianna, now 8 years old will have to wait until puberty to fully transition from Jorge to Arianna.
Jasming and Braxton, 36 got married in July 2017 and live in Cranford, New Jersey, USA where they can finally be their authentic selves, supporting each other through their process of transition. Jasming said the change in Braxton and Arianna since their transitions have been amazing:
"When Braxton told be he was trans it made sense. I was actually really relieved and proud because it was his first step to living his authentic, true self. It truly has been a blessing to witness them transition simultaneously without ever really second guessing the situation. It felt very natural to watch them take their true forms."
Braxton is grateful for the support of Jasming and inspired by the courage of Arianna and said:
"I grew up in a conservative family that was really religious. I never had a word to describe how I felt. I thought if this child can do this, and this can be accepted then maybe I could. She did what I couldn't so at her age. I decided to take the physical and emotional leap. My wife is so open-minded, she is just amazing. Arianna is lucky to have such a wonderful mother who is so supportive."
Arianna is relieved at being able to be who she really is and commented:
"I thought it was a little crazy that somebody else in the family was transgender but I felt happy because we could share stuff together. It made me feel pretty sad when everyone thought I was a boy because I always knew I was a girl. When I was allowed to be myself. I was really happy. Telling my mom really changed my life."She started school in September as Arianna and look forward to a complete transition later on in life.
Other parents are also more openminded regarding their children's self-identification as another gender. At the age of 10, Jason Thomas Kerr, from Missouri told his mother he is gay. When he was 3-years-old he started dressing as a girl, applying full make-up and wigs with the help of his sisters.
Now at the aged 11 he loves performing as a drag artist and love strutting his stuff on stages all over the US and Canada and in spite of being told by others that he shouldn't be performing as a drag artists he family is behind him, supporting him in his journey, encouraging him to be true to his authentic self.
When Sade's son came out as transgender a few years ago the initial reaction was one of shock. He started his transition shortly after and have since gained admiration for his courage to be himself. Earlier this year he posted pictures proudly showing off his physique after the transformation, paying tribute to himself and those that have supported him through the process and said:
"A year and a half ago today I was given my first shot of Testosterone. Looking back at old photos of myself pre T shows me how far I've come and How happy I've become since starting my medical transition 18 months ago to this day. Thank you for all the support from my friends and family who've helped me every step of the way, LOVE YOU MY Gs. I didn't post on Transgender Day of Visibility so love to all my trans lions and lionesses for having the courage to be yourselves every day."
Please fill in your e-mail so we can share with you our top stories!