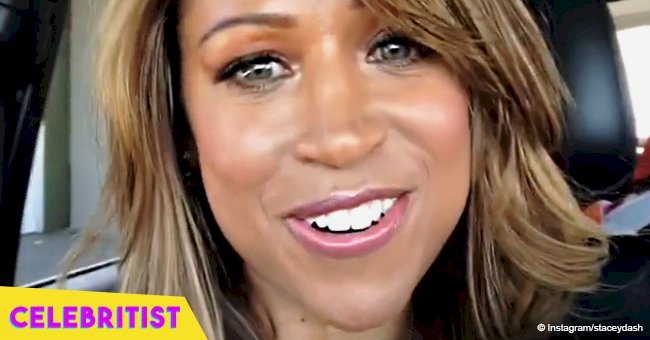 Stacey Dash secretly got married, reportedly just ten days after first meeting with her husband
"Single Ladies" star, Stacey Dash reportedly had a secret wedding just a few days after withdrawing from her campaign for Congress in California.
Dash, a conservative politician and her husband, Jeffrey Marty, are said to have tied the knot on April 6 in Florida, and get this: they met only ten days before becoming man and wife.
It's still not sure how or when Dash and Marty met, or why their ceremony was a classified affair, but the actress's manager, Kerry Jones confirmed to Page Six that "They wanted it on the D.L. [down low]."
Dash, 51, had earlier declared an interest to run in California's 44th congressional district, saying she wanted to "free people from the shackles of a plantation mentality." A month after her February 26 declaration, however, the "Clueless" actress pulled out of the race because of "the overall bitterness surrounding our political process."
Marty himself is a controversial political enthusiast who has quite the reputation on Twitter. The lawyer is best known for creating the fictitious character of Rep. Steven Smith of Georgia, the first "congressman" to endorse Donald Trump and a tea party fanatic who courts controversy with his tweets.
Like Dash, Marty identifies as Republican, and even attempted to fuel negative speculations about Hillary Clinton two years ago when he told a reporter:
"There are a lot of people that have died mysteriously around [Hillary Clinton]. When they were supposed to testify against her — three or four different people. Within a week."
The publication also reports that Dash lives in Los Angeles while Marty is based in Florida.
If the reports are accurate, this will be Dash's fourth marriage. She was previously married to producer, Brian Lovell, British executive James Maby, and actor Emmanuel Xeureb.
Dash also has two children, one from her marriage to Lovell, and another from her relationship with "Talk to Myself" singer, Christopher Williams.
Last week, the former president of the United States who is also a Republican, George W. Bush, walked his daughter down the aisle last week in a secret and intimate ceremony held at the Bush family compound in Kennebunkport, Maine.
The 36-year-old bride, Barbara Bush, and her screenwriter husband had the sweetest words about their low-key wedding and the few family members that shared in their big day. You can read all about that story here.
Please fill in your e-mail so we can share with you our top stories!