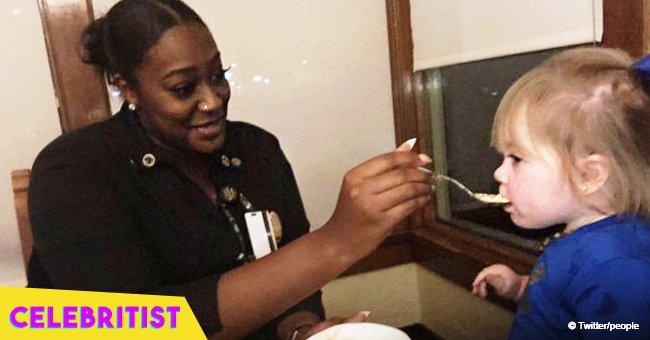 Waitress goes viral after helping feed a fussy toddler so her tired mother could enjoy her dinner
Courtney Pedigo, a mother from Greensboro, got the help of Nianni Rudder, a waitress at a local Olive Garden, who fed her fussy daughter so that she could enjoy her meal.
In an interview that the 24-year-old mother had with People, she revealed that she went to the restaurant with her stepmother, father, and a couple of friends. Unfortunately, her 18-month-old daughter, Harlynn, wanted to sleep, so she wouldn't sit still.
Courtney knew that her daughter was tired, but since she wanted to finish her meal, she tried to keep her occupied with some movies on the phone and even holding her, but nothing seemed to work, so she knew the best option was going out to the car and eat there.
NOT LETTING HER GO
When the mother asked her waiter, Nianni, for a to-go box so that they could finish their meal in the car, the woman refused and told her to go back to her table as she would play with Harlynn while Courtney finished her meal.
GIVING HER A HAND
"She sat there and fed [Harlynn] some ice cream and was wiping her hands and her face. She talked to my family and opened up a bit about herself. It was pretty cool. I was just really flustered and overwhelmed, and she was a breath of fresh air," admitted Courtney.
REALIZING HER ACTION
The single mother finally said that all her friends were shocked as a complete stranger who was working chose to sit with the family and entertain Harlynn so that Courtney could eat.
Once Courtney posted a photo of the kind action on Facebook, it went viral. Nianni commented on it, saying that she didn't expect to become an internet sensation as she was doing what she would have wanted someone did for her in that situation.
GOING VIRAL
At the moment, the post has over 10,000 reactions, 800 comments, and has been shared more than 1,600. Nianni told Today that she has a three-year-old niece, so she understood that children might get fussy from time to time.
SIGNING HAPPY BIRTHDAY
She is not the only waitress who became famous through social media as Kathryn and Brandie did the same. They work as waitresses at the Texas Roadhouse in Murfreesboro, Tennessee.
When Kathryn saw that a four-year-old boy who was celebrating his birthday had hearing aids, she decided to do something special for him. She told Brandie to join her and signed "happy birthday" to him. They were the only other people to sign to him besides his mother and teacher.
Please fill in your e-mail so we can share with you our top stories!