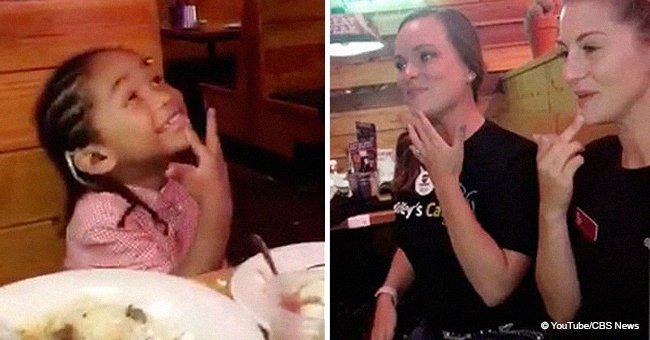 Waitresses sign 'Happy Birthday' to hearing-impaired 4-year-old

4-year-old Octavius Mitchell Jr. received a special birthday song from two waitresses when he went out to a Texas Roadhouse, Murfreesboro Tennessee.
As Octavius sat down with his mother and uncle for his fourth birthday on July 18, two waitresses quietly observed something different about the group.
News Channel 5 reports that at first, the staff gave Octavius the traditional birthday treat by letting him sit on a saddle.
But the two waitresses looked on and noticed Octavius' condition. Follow us on Twitter for more @amomama_usa.
He was hearing-impaired and communicated with his mother, Shatika Dixon, using American sign language. Kathryn Marasco explained:
"I'm sitting there and I'm watching from a distance, and the mom is signing to the little boy which I noticed he had his hearing aids."
Marasco then asked a coworker name Brandie White if she knew how to sign "happy birthday."
White was taking a speech-language pathology and audiology course at Middle Tennessee State University.
The pair went up to the young boy and signed "happy birthday" to him. They were the only other people to sign to him besides his mother and teacher.
Octavius' mother said she was overwhelmed by the touching gesture. For her and her son, communicating in public is not always comfortable. She described:
"Everybody thinks we're crazy when we're out talking and we're signing. She continued, "So it's really important to me that someone noticed that and picked up on that and made that special just for him, my baby."
Octavius was born hearing-impaired so he may grow up with some difficulty. But White said that as a server, she wants her customers to feel at home.
Knowing he now has two friends who can speak the same language he does, Octavius should feel right at home next time he goes to the special restaurant.
Back in July, one father made his deaf son smile when he sang Lee Brice's "Boy" to him. 25-year-old Zach Oxendine was trying to get his son Judah to sleep.
He started singing the song but did not anticipate his own reaction, nor did he know his partner Linda is filming. He asks her to stop recording because he was going to cry.
But Linda encouraged him to continue. When he does, his son looks up at him and smiles, and again Oxendine is overwhelmed with love and has to sit.
He continues until ultimately he had to wipe tears from his face and stops.
Please fill in your e-mail so we can share with you our top stories!