Melania Trump opens up about message behind the 'I really don't care' jacket
Speculation and criticism got sparked when the First Lady of the United States of America wore a green $39 jacket painted with 'I really don't care, do you?' on the back.
In June Melania Trump was about to board a plane to Texas for a visit to a detention center housing children who got separated from their parents at the border. Donald Trump's administration had decided to split up the children from their parents and it caused controversy.
The first lady's press secretary previously told HuffPost the jacket had "no hidden message." https://t.co/2pVzcjr4GI

— HuffPost (@HuffPost) October 14, 2018
At the height of this sensitive issue she wore the jacket causing confusion and outrage, Melania Trump's communications chief had insisted it had no special meaning and that it was just a jacket, however, this answer was not seen as satisfactory.
The first lady visited the New Hope Children's Shelter in McAllen, Texas on June 21 which housed 55 children, including those separated from their parents as part of the Trump administration's zero tolerance policy towards illegal immigration. Melania wore the jacket on her way to the center and during the return trip.
Read more on our Twitter account @amomama_usa.
Melania Trump totally changed her story on the "I really don't care" jacket, writes CNN's Chris Cillizza https://t.co/iKpziP7L6R pic.twitter.com/h3LIOpxbvV

— CNN (@CNN) October 13, 2018
Donald Trump commented on her decision to wear the jacket and said it was a message to the 'Fake News Media,' and tweeted:
"Melania has learned how dishonest they are, and she truly no longer cares!"
The First Lady criticized the media for being 'obsessed' about her clothing. A recent example of this happened in August during a tree planting initiative where she helped plant an Eisenhower-era oak sapling on the White House grounds.
They forgot the purpose of the initiative as the main point of interest became the clothing she wore during the event. Her 4 inch Christian Louboutin stilettos and $4,000 floral Valentino skirt with a matching sleeveless top became the point of interest and criticism.
In the interview with Tom Llamas from ABC news during her recent Africa trip, she acknowledged the jacket was a message of sorts and said:
"It's obvious I didn't wear the jacket for the children, I wore the jacket to go on the plane and off the plane, for the people and for the left-wing media who are criticizing me. And I want to show them that I don't care. You could criticize whatever you want to say. But it will not stop me to do what I feel is right."
NOW ON @ABC: @FLOTUS Melania Trump sits down for an exclusive interview with @TomLlamasABC. RT if you're watching the ABC News special event, east/central, "Being Melania: The First Lady." #MelaniaTrump https://t.co/YmED9yghpz pic.twitter.com/44I93tz6Y2

— 20/20 (@ABC2020) October 13, 2018
Llamas had tough questions for the First Lady during the interview and also asked about the repeated allegations of sexual misconduct against Donald Trump to which she commented that it had put a strain on their marriage and that the media like to speculate and spread rumors adding:
"I'm a mother and a first lady, and I have much more important things to think about and to do. It is not a concern and focus of mine."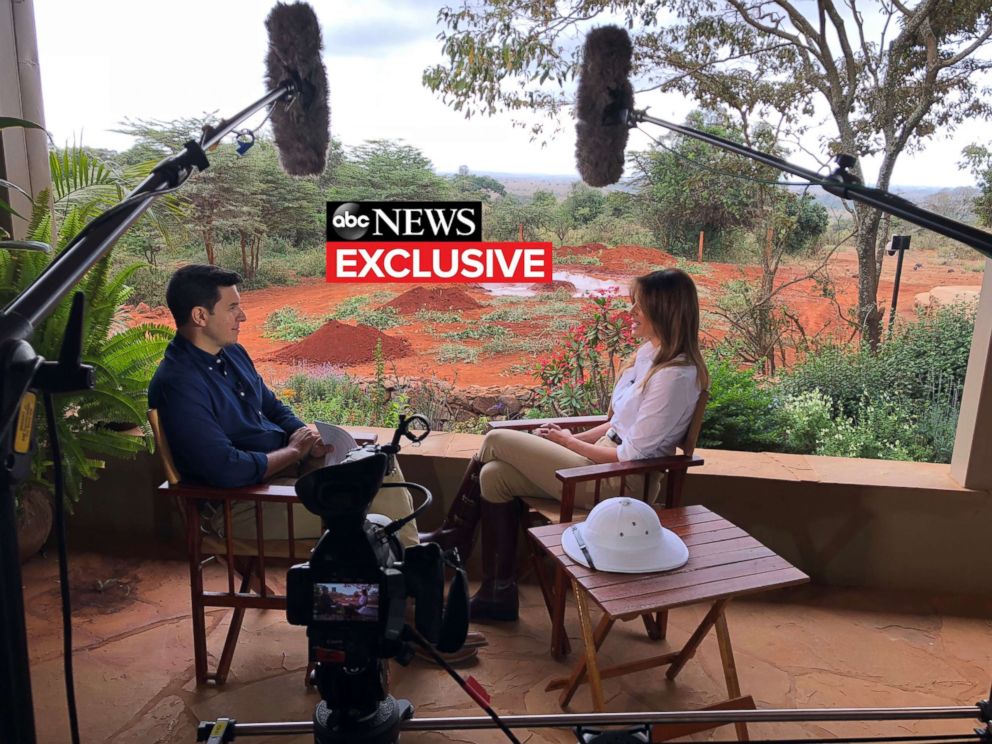 With the topic touching on motherhood she also spoke of her 12-year-old son Barron. She stayed with him in New York after the inauguration until he finished school and keeps him shielded from the public life saying that she doesn't always go to his sports practices and games because it draws too much attention and said:
"I don't go much. He likes to be one of the boys when they play. … It's his life too, and I respect that."
Melania Trump says in TV interview that the now infamous "I don't care" jacket she wore on a visit to immigrant detention facilities was a message "for the people and the left wing media who are criticizing me." https://t.co/2kRQFG1mkS

— The Daily Beast (@thedailybeast) October 13, 2018
Since uprooting her life in New York City and moving to the nation's capital many rumors and allegations have done the rounds but Melania Trump comments:
"I'm staying true to myself. I want to live a meaningful life, and that's the most important to me. I know what my priorities are, and I'm focused on that."
Later on during the interview with Tom Llamas she adds:
"I often ask myself, if I had not worn that jacket if I will have so much media coverage. I would prefer they would focus on what I do and on my initiatives than what I wear."
The First Lady's stand won favor with supporters but critics have focussed on the initial lie her team was caught in, also criticizing her for the timing of her message.
Melania Trump responds to questions about husband's alleged affairs in new interview https://t.co/tEXa1REhtS pic.twitter.com/dNlM8gBMY6

— The Hill (@thehill) October 12, 2018