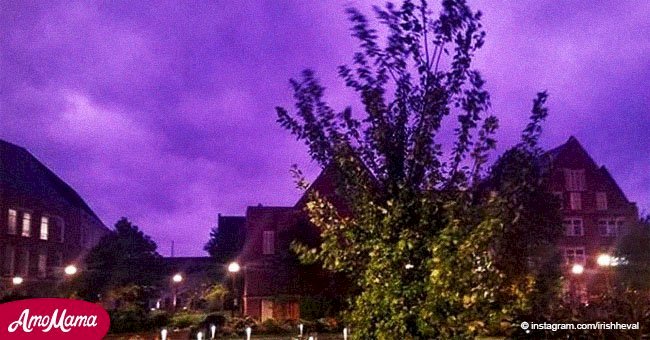 After Hurricane Michael the skies turned purple and here's why
Hurricane Michael left a rare spectacular sight in the sky following its devastation of the Florida panhandle. The purple sky looked magical, but here's what science said about it.
The storm was the 13th of the season and the third most powerful in U.S history. It slammed into Florida and moved northwards with Category 4 strength.
When it had passed, several residents in the affected areas stepped outside to see a vibrant purple sky. It's unlikely they had ever witnessed the scene before. It lasted for a few hours.
Follow us on Twitter for more @amomama_usa.
According to Shared, the sight results from a change in particles and molecules which were disturbed and are now affecting the way light travels. The process, called "scattering," takes place immediately before or after a hurricane.
Steven Ackerman, professor of meteorology at the University of Wisconsin Madison, described the process this way:
"Because the sun is low on the horizon, sunlight passes through more air at sunset and sunrise than during the day, when the sun is higher in the sky."
He explained:
"More atmosphere means more molecules to scatter the violet and blue light away from your eyes. If the path is long enough, all of the blue and violet light scatters out of your line of sight. The other colors continue on their way to your eyes. This is why sunsets are often yellow, orange, and red."
Thus, due to the extreme low pressure, our eyes could distinguish the violet rays as they crossed the scattered particles.
The purple rays brought to mind Prince's hit "Purple Rain" from the 80s. It also made some feel a greater sense of relief that the mighty storm had finally passed on.
In its wake though, Hurricane Michael left six persons dead and several businesses damaged or destroyed.
Flash flood warnings were announced much like was done after Hurricane Florence which made landfall in North and South Carolina less than two months ago.
Michael further generated stories of hope including one found in a journalist who rescued his colleague.
Last Wednesday in Panama City Beach, Florida, Kerry Sanders almost fell victim to the force of Michael's winds as he attempted to give a report.
Source: YouTube/ USA TODAY
The powerful 155-miles per hour winds threatened to throw him over. But meteorologist Jim Cantore sturdily walked over and guided Sanders to a pillar.
Source: YouTube/ Inside Edition
From there, Sanders regained his balance and dashed inside. Had it not been for his colleague, Sanders might have been swept away.
Amid the long-term disastrous effects, there is some hope in friends who will risk their lives for others, and in awe-inspiring purple skies.
Please fill in your e-mail so we can share with you our top stories!