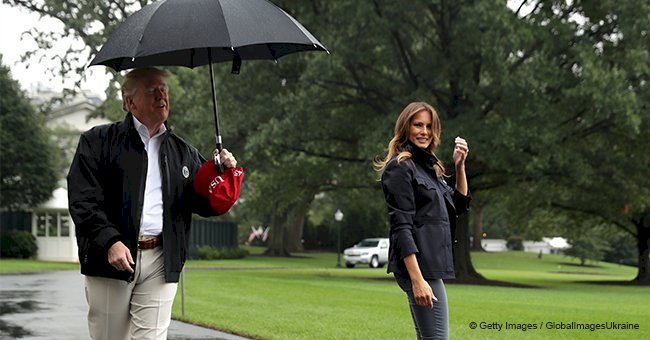 Donald Trump criticized for leaving Melania to get wet in the rain while holding an umbrella
The First Lady was left to fend for herself as The President forgot to give her shelter under the rain. The two took a long walk to the waiting helicopter.
As Melania Trump stepped out to join her husband in front of the White House, she wore a wide smile and held his hand. Donald returned both actions but forgot one thing: to protect his wife from the elements.
The two were about to head to ravaged Florida. for the first time to get a firsthand look at the damage after Hurricane Michael hit on October 10. So far, 18 deaths have been confirmed in the region.
The video of Donald and Melania Trump is found below.
On Monday morning, Melania stepped underneath the umbrella Donald held. She stood there for a split second before her husband awkwardly allowed her to walk ahead. He then side-stepped towards the press. This left Melania under the lightly pouring rain.
Twitter users immediately called the POTUS out on the obvious lack of chivalry he showed to no other than his wife.
Instead of being mindful, he walked over and spoke to the TV cameras:
"She did a great job on television the other night and I didn't do so bad either, but she did a great job on television."
When he returned to Melania, it still didn't occur to him to shift the large umbrella so that his wife would be covered. They walked awkwardly towards the Marine One helicopter.
Persons online pointed out that this behavior is nothing new. Back in January 2018, the president completely forgot about his youngest son, Barron Trump as they boarded Air Force One.
It was again raining and Trump held on to his own umbrella with no regard for his son as he got soaked behind him.
Melania Trump recently returned from her tour of African nations including Ghana, Malawi, Kenya, and Egypt. There, she visited clinics, cuddling adorable kids and meeting with officials.
The First Lady also observed the efforts of hospitals to improve nutrition in young children. School children performed traditional dancing for Melania that had her in all smiles.
The active role Melania plays should come as no surprise since she spoke about it two decades ago.
In a resurfaced interview from 1999, Melania spoke about the type of First Lady she would be. She compared herself to Jackie Kennedy when she spoke to Don Dahler for ABC News at only 26 years of age.
"I would be very traditional, like Jackie Kennedy and Betty Ford."
She said of her then-boyfriend Donald Trump:
"I would support him. I will do a lot of social obligations."
The two had just started dating. They got married six years after that. Like Jackie Kennedy, Melania is sticking by her husband's side despite recurring rumors of extramarital affairs.
Source: YouTube/ Daily Mail
More importantly, however, she and her husband are heading out to those who may need their help in Florida and the Carolinas. And regardless of her husband's lack of consideration, Melania is doing what she can.
Please fill in your e-mail so we can share with you our top stories!