Meteorologist starts weather report and stuns viewers with sleepy guest worn on her back
A meteorologist has become an internet sensation after she was filmed giving a weather report while carrying her sleeping son on her back.
Although loving and rewarding, being a parent is no easy task and sometimes can be difficult to juggle so many tasks at once.
As it can be seen in a Facebook video shared by Praedictix, Susie Martin discovered a way to conciliate her job with her parenting duties, melting hearts everywhere.
Follow us on our Twitter account @amomama_usa to learn more.
AN ADORABLE SURPRISE
Whether you're a stay-at-home mother or a full-time career one, you are bound to have your hands full, and if you have a stressful job, things can easily get out of hand.
When Martin stepped in front of the camera to deliver the national forecast, everything seemed normal at first, but viewers were surprised to see the boy strapped to her back when she turned around.
Thank you for all of your kind, supportive messages! I certainly didn't expect or intend to get this much attention. I love that some of you are inspired to try babywearing or that you simply appreciate the idea. Spread the love and baby snuggles (toddlers too!) ❤️❤️❤️

— Susie Martin Wx (@smartinWX) October 11, 2018
FOREVER A BABY
According to Martin, that week was International Babywearing Week, which was why she decided to take her 21-month-old boy with her to work.
She was quick to mention that she was aware that the child is no longer a baby but a toddler, something that she is constantly reminded of.
#Anchor Delivers #Weather #Forecast With #sleeping 2-Year-old #baby on her Back: Videohttps://t.co/I6H6tR34ij
Susie Martin pic.twitter.com/EkTJoADwry

— ⚔News Now🕵️‍ (@juergen_p) October 11, 2018
A MOTHER'S LOVE
Still, even though he is no longer a baby, Martin shared that the week was very special to her because it allowed her and her son to 'bond during the early stages of infancy.'
Plus, carrying her son around has proved to be a particularly effective way of soothing him while still performing other tasks.
The video became a success online, especially because, while his mother was working, the little boy was sleeping despite the cameras rolling and shining lights.
ANOTHER CURIOUS EVENT
Recently, another weather report also went viral after the weatherman, Khambrel Marshall, showed his professionalism in front of the camera.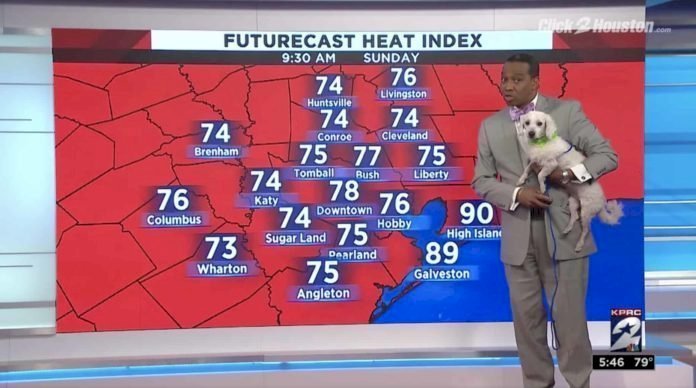 Everything was going well when a dog named Angel, which was supposed to appear in the following segment, joined Marshall. The weatherman didn't lose his composure and welcomed Angel into his arms.
He carried on with the weather report and even took the opportunity to let pet owners know how they could help protect their furry friends from a heat wave.