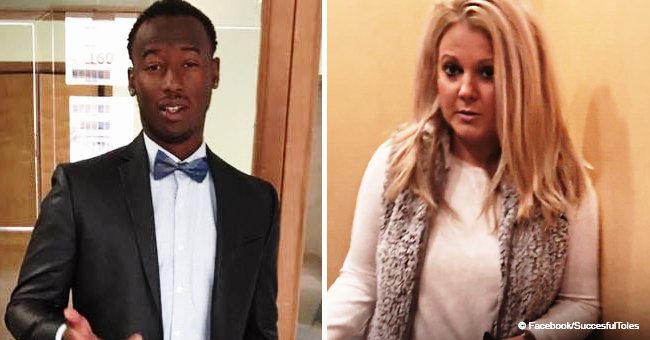 White woman fired from job after video shows her blocking black man from entering his building
D'Arreion Toles, a black man who lives in an apartment in St. Louis, filmed the incident he had with his neighbor Hilary Thornton, who physically blocked him from entering the building.
In the videos Toles uploaded to Facebook, Thornton appeared standing in the entrance of the building with her dog demanding for Toles' name and "unit" where he lived in. Thornton set clear that she wouldn't move until she verified that Toles lived there.
After refusing to provide personal information claiming that she was not a member of the security personnel or the owner of the building, Toles pushed passed her. While most people would have given up, Thornton followed him to the elevator.
SHE WANTED TO "INTRODUCE" HERSELF
Once in the elevator, Thornton set clear she had no intentions of leaving him alone saying that she wanted to see who he was going to see and that, as a neighbor, she wanted to introduce herself.
SHE CALLED THE POLICE
Thornton followed Toles until he got into the apartment. Even there, the lady stood in front of it in disbelief. A couple of minutes later, the police showed up at the place as Thornton called them to report him.
HER COMPANY'S STATEMENT
The police didn't fill a report as there was no crime committed. Tribeca Luxury Apartments, the company where Thornton worked, released a statement soon after the video became viral.
GETTING FIRED
They pointed out that even though Thornton was an employee of their company, that incident had not taken place in one of their apartments.
"After a review of the matter, the employee has been terminated and is no longer with our company. At Tribeca-STL we want all residents, guests, and visitors to feel welcome, safe and respected," read the statement.
ASKING PEOPLE NOT TO GO AFTER HER
Finally, Toles urged all people who showed him support that let Thornton live her life at peace and not going after her. He added that he wouldn't take legal actions as he was not mad at her.
A SIMILAR SITUATION
Toles was not the only black person who was asked to identify themselves by a white person as Sarah Braasch, a Philosophy Ph.D. student, called the police on Lolade Siyonbola, a black Yale grad student, because she "didn't belong there."
Siyonbola fell asleep in the Hall of Graduate Studies common room of Yale University while taking a break from writing her paper when Braasch got in, turned on the lights, and told her that she was not allowed to be there.
After that, the campus police arrived and handled the situation. When they verified Siyonbola's identity, they let her go as she had not done anything wrong.
Please fill in your e-mail so we can share with you our top stories!