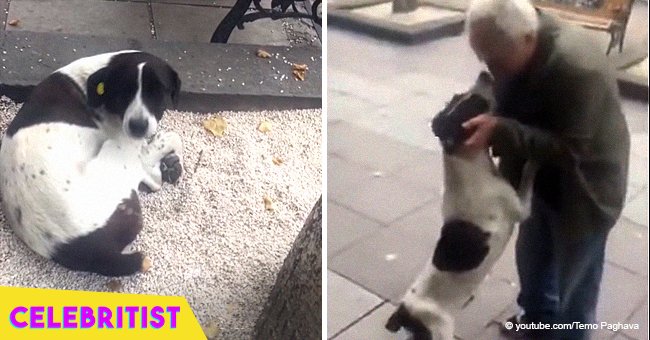 Man finds lost dog in the street after three years in viral video
The tear-inducing video of the moment a dog reunites with his owner after three years of being on the streets has become viral. The pup's reaction when he realized he had been found is priceless.
Giorgi Bereziani, a 62-year-old man from Tbilisi, Georgia, lost his loyal dog Jorge in 2015. While is not clear in what circumstances the pup was separated from his owner, Bereziani did everything in his power to bring him back home.
He put up missing ads all around his home, and on social media and even walked the streets searching for the pooch but without success. However, after three years of looking in vain, he received an unexpected call that gave him hope once again.
THE CALL THAT CHANGED EVERYTHING
Workers from an Opera house a bit far from his home called him to say there was a black and white dog that matched the description he provided of Jorge roaming around the place. Bereziani didn't waste any minute and went to the area by bus to search for the dog.
He recorded the whole trip by bus, pointing his camera to the street just in case he saw the dog. Then, he finally found a dog that looked like Jorge sleeping under a tree in front of the Opera house. "It looks so much like him, can you see him? He's even wearing the yellow tag on his ear," he says in the background as he approaches the dog.
After finally getting near, what happens has made thousands of people cry in emotion.
THE HEARTWARMING REUNION
"Is that you? Jorge?" he asks, as the friendly dog stands up, looking a bit confused at first, but then he smells his owner and immediately recognizes him, as he jumps with joy and starts whimpering and waggling his tail in pure bliss. "Jorge it is you! Ah, sweet boy, how are you boy?" Bereziani asks.
The dog can't contain his happiness as he keeps jumping on the man and tugging on his pants and shoes, while the man tries to hold the pup while balancing his phone at the same time. Jorge was wearing a yellow tag on his ear, which means he was picked from the streets by animal control workers but was deemed as harmless to society, vaccinated and released.
Then, a worker from the Opera house asks Bereziani if that's his dog, to which the man answers, "yes, he has been missing for three years," and hands the phone to the woman so she can take a picture of them.
She manages to point the camera at the happy duo as Bereziani showers his faithful companion with kisses.
JORGE GOES BACK HOME
The video then shows Bereziani and Jorge arriving back home, where two women, probably relatives of the man, welcome back the dog with open arms. Just like he did with Bereziani, Jorge hesitates at first, but then he starts jumping on the women, showing them his affection after three years missing.
The heartwarming moment proves that dogs can never forget their owners and that no matter how many years pass, they will still show their love and appreciation for their humans.
THEY CAN FEEL TOO
No matter if they get lost or are abandoned, dogs have feelings too and is clear that once they give their love and loyalty to someone, is a forever done deal for them.
That's why, when a family dumped their 3-year-old German Shepperd dog, Rocco, on a shelter after discovering they were having a baby, the poor pup couldn't relax and was visibly stressed. Rocco sat in a corner and wouldn't stop shaking as he looked depressed, but a kind-hearted woman recorded him and shared the video on social media hoping to find someone who would take care of him.
Preethi Pillaipakkam, a foster father of the DFW German Shepherd Rescue center, intervened to help him immediately. It took him a few weeks but Rocco was able to relax and get used to his new environment soon after.
Please fill in your e-mail so we can share with you our top stories!