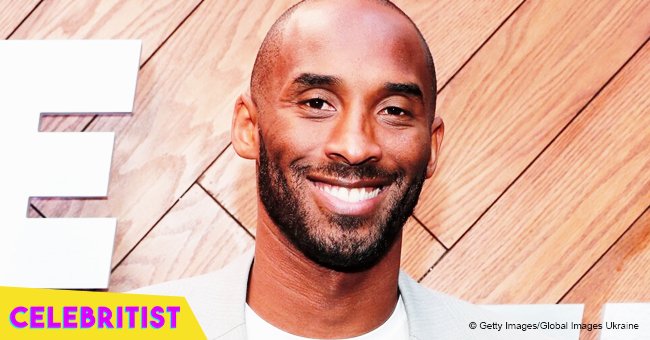 Kobe Bryant's daughter Natalia stuns in white mini dress heading off to homecoming
Former NBA superstar Kobe Bryant is a proud father as he sends his 15-year-old daughter off to homecoming. Natalia looks gorgeous in a white dress as she poses next to her famous dad in a pic shared by her mom on Instagram.
Kobe Bryant's eldest daughter, Natalia, recently attended her homecoming looking like a princess, but before starting the party, it was necessary to take the commemorative snap next to her father. Bryant's wife, Vanessa, shared the gorgeous father-daughter portrait on Instagram.
In the pic, Natalia looks ready to turn some heads in a ruffled mini white dress with a plunging neckline that she paired with strappy high heels. The whole ensemble enhanced the girl's fit figure and toned legs, the product of her volleyball training.
Kobe, on the other hand, kept it simple with an all-black ensemble of sweatpants and a t-shirt, as he posed barefoot next to his smiling daughter. Vanessa made sure to put a star sticker on her husband's feet to make the pic Instagram worthy.
"#Homecoming #MyBabyGirl #Kind #Loving #Smart #Beauty (Since I get asked this ALL the time.... Natalia is 5'9" without heels on). Legs for days," the proud mother of three captioned the photo.
THE BRYANT GIRLS
Natalia is the eldest of Bryant's three daughters, followed by Gianna, 12 and Bianka Bella, 1.
The former L.A Laker revealed on an interview with Extra last year that some of his teammates used to tease him about not having a son, telling that "It takes a real man to make a boy," but he fired back saying "Dude, it takes a king to make a princess… get in line."
While Kobe considers all his girls like his "little princesses," he's also proud of watching them grow and following their passions at a young age. Natalia, he said, loves volleyball and film. "Her and I can sit down for hours and just watch film after film after film after film," he admitted.
Gianna, on the other hand, wants to follow his steps into the basketball industry. At her age, she's already getting one-on-one training from Bryant, and according to him, the girl has a lot of potentials. He added:
"She came to me last summer and asked if I would teach her the game a little bit, so she just started playing."
Now that the 40-year-old is officially retired from the basketball court, he has been spending more time with his wife of 17 years and their daughters, making sure he's there every step of the way, ready to snap some pictures of their family time, just like they did on their European vacation a few months ago.
NOT A CHANCE OF GOING BACK
While some fans of the shooting guard still have hopes he will return to the game someday, Kobe put the recent rumors going around about him training to join LeBron James on the Lakers to rest.
On a visit to Ellen DeGeneres show last month, Bryant reassured the TV host and her audience that "No, [there is] not a chance. Zip zero," of him going back to the league.
Bryant gave up his jerseys in a special retirement ceremony at Staples Center last December. His 20-year career came to an end with him being the third-leading scorer of all time and a five-time NBA champion.
On his last game ever as part of the NBA, he scored 60 points against Utah in the Lakers' 101–96 victory. And while most of his family was there to support him and cheer on such a life milestone, Bryant's parents were the most significant absent of the night.
A SOUR RELATIONSHIP WITH HIS PARENTS
After his official retirement, Bryant had a lot of time to give more in-depth interviews about his life, as he did for a unique piece written by Ramona Shelburne for ESPN. On the long read, Bryant opened up about his estranged relationship with his parents, blaming their sour patch on the money.
It seems like former NBA forward Joe "Jellybean" Bryant and his wife Pam were never satisfied with what Kobe gave them. The tension in the family was so unbearable that they stopped talking to each other.
"Our relationship [expletive]" he said. "I say [to them], 'I'm going to buy you a very nice home, and the response is 'That's not good enough'?" And he added, "Then you're selling my [expletive]?"
Bryant was referencing the infamous incident a few years back when Pam and Joe decided to put some of his personal memorabilia items up for auction behind his back. Including two of high school uniforms and two rings for the 2000 Lakers championship team.
Now that Bryant is settled and enjoying his retirement, fans are constantly wondering if he has fixed his relationship with Joe and Pam. After all, the family should always come first, and that's what Bryant's trying to teach his daughters.
Please fill in your e-mail so we can share with you our top stories!