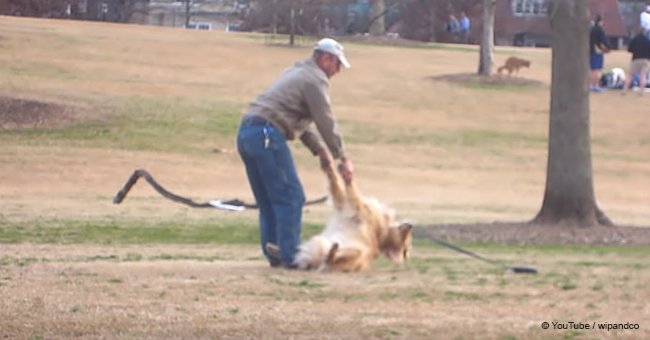 Passersby in tears as lazy dog doesn't want to leave the park (video)
A Golden Retriever gives his owner a hard time by refusing to get up and leave the park during a casual day out.
The video of the adamant dog was uploaded to YouTube, which showed the dog laying himself on the ground and refusing to even budge from its spot.
As the dog's owner tried to conclude their visit and make a return, the dog threw itself on the ground and went limp as his human tried his best to get him to walk. Needless to say, he miserably failed.
The human tried life the dog by his paws and gently pull on the leash so that the dog could be nudged to walk. But nothing seemed to work on the dog.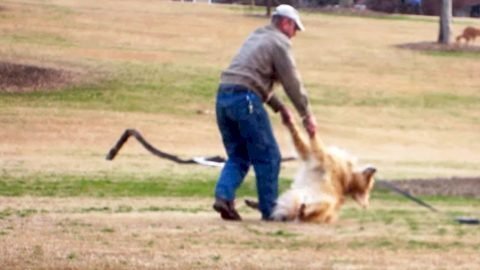 Source: YouTube/wipandco
Follow us on Twitter to learn more.
Then the man decided to entice his dog with a game of fetch. He started to look for sticks lying around him and picked up a small twig.
However, the dog showed no signs of being interested in the stick. Rather, he would still just lay on the ground and wait for the man to bring the stick near to him.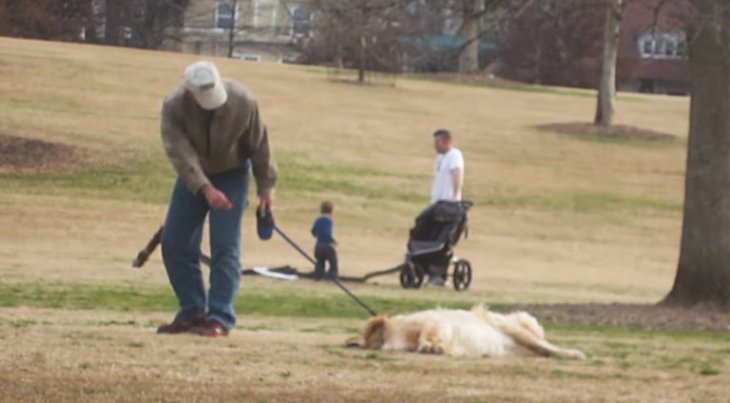 Source: YouTube/wipandco
When nothing else seemed to work, the man improvised his strategy a little. He picked up a much larger piece of stick and put it in his own mouth.
After noticing his human perform this strange task, the dog became fairly curious. When the man started to take a few steps backward, with the stick still in his mouth, the dog jumped to his feet and followed his owner.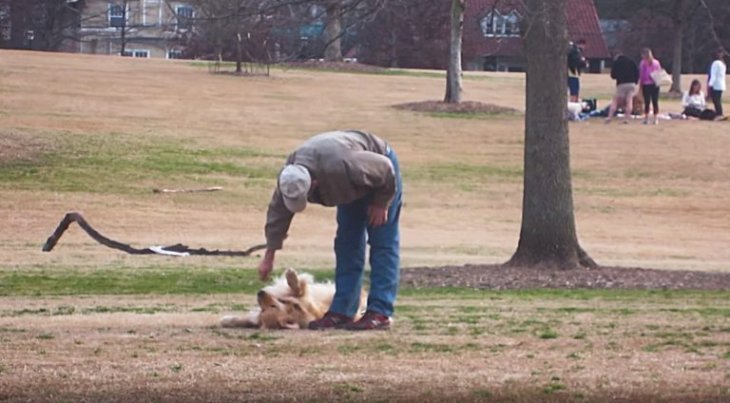 Source: YouTube/wipandco
The man then simply led his dog away from the field and the dog followed happily. The witnesses who recorded the entire incident were heard laughing throughout the clip.
The hilarious video went viral on the internet with more than 12 million views so far and over 15,000 likes on YouTube.
While dogs are known for their splendid alertness and playfulness, there are some dogs who are also more interested in sleeping their days off.
Previously, another such dog went viral on the internet after refusing to get up and walk even after being repeatedly nudged by his owner. The hilarious incident also called for a creative solution on part of the owner to get the dog up and running.
These innocent pets often crack us up with their unexpected antics and observation of things around them. Previously, a pug named Ludvig also went viral after confusing the shadow of the tap water with the real thing.
Please fill in your e-mail so we can share with you our top stories!