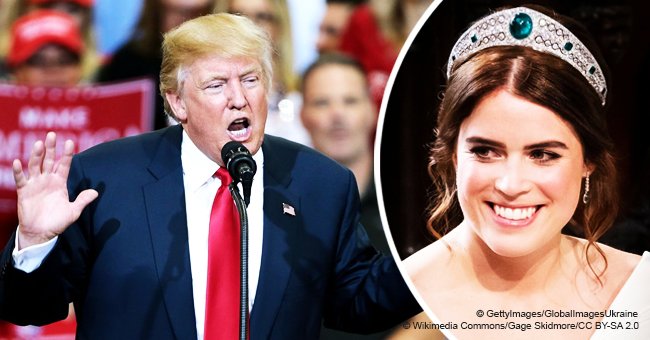 Trump's tweet about Princess Eugenie's wedding sparks debate, and the reactions are furious

Princess Eugenie married Jack Brooksbank on Friday at St. George's Chapel, but President Trump's congratulatory message is leaving netizens confused.
Trump tweeted on Sunday: "Princess Eugenie of York was a truly beautiful bride yesterday. She has been through so much, and has come out a total winner!"
Their wedding was announced back in January. Read more on our Twitter account, @amomama_usa. The tweet can be viewed below.
Twitter users rushed to the social media platform and asked Trump to explain what exactly the 28-year-old Princess had been through to warranted his admiration.
Many believed that, as a member of the royal family, Princess Eugenie had had nothing but the luxury and privilege for most of her life.
A user known only as Lynette said that Eugenie had had incredible privilege, wealth, and access to assets "beyond most people's wildest dreams."
Joe Wilson added that she's part of an "overprivileged, outdated and unnecessary system [...] that truly reflects the differences between the haves and the have-nots."
Other netizens pointed out that Eugenie was diagnosed with scoliosis when she was a pre-teen. It has caused a tremendous set back for her as a child.
Eugenie underwent an 8-hour operation when she was 12 years old, during which specialists inserted rods and 1.5-inch screws into her spine.
Apart from being living proof that the groundbreaking operation worked, she has committed herself to raise awareness about the condition.
Other netizens wanted to know why Trump was focusing on a royal wedding when America is coming to grips with the devastation caused by Hurricane Michael in the Florida Panhandle.
One user asked if Princess Eugenie had her house destroyed by the hurricane, while another added: No one has been through more than the victims/families of Hurricane Michael!"
To date, 18 people have lost their lives to Hurricane Michael, and thousands more were misplaced.
Earlier this week, Trump and First Lady Melania listened to survivors shared their accounts of the ordeal and was photographed handing out water bottles to residents.
He also visited a distribution center where diapers and clothes were distributed from. The first couple was joined by Florida Governor Rick Scott.
Please fill in your e-mail so we can share with you our top stories!