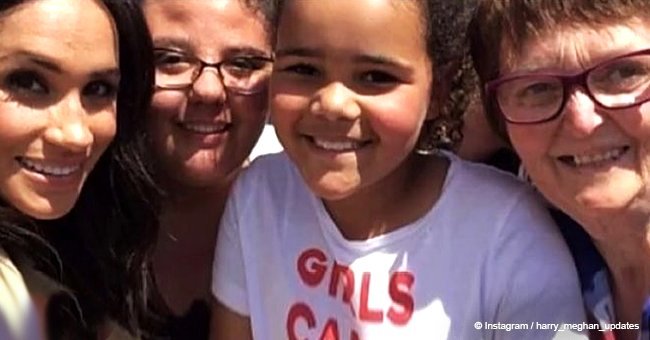 Prince Harry couldn't restrain himself and broke royal protocol when he found a Meghan lookalike
On Tuesday, Prince Harry and Duchess Meghan had the chance to watch a dance rehearsal at the arts center at the Sydney Opera House. They walked out hand-in-hand to a large crowd who was anticipating their emergence.
One lucky fan caught the prince's eye with the t-shirt she was wearing. The special girl caused Harry and Meghan to break protocol just for her.
Normally, the Royal family follows its strict protocols. They don't sign autographs, usually don't give hugs, and they definitely don't take pictures with or for fans.
However, this week, Prince Harry couldn't help but break one of the protocols. While meeting the people gathered outside the Opera House, the prince noticed a little girl wearing a t-shirt that read "Girls Can Do Anything."
For more on this story go to our Twitter account @amomama_usa. He liked her so much that he just had to call his wife over to meet her.
As Meghan greeted the group, one person was heard saying: "We feel she looks a bit like you." The Duchess of happened to have noticed the similarity and responded, "I was literally about to say the same thing!"
Meghan noticed the girl's statement t-shirt and pointed at it and said, "I love your shirt!" Her husband then asked if he could take a photo of them, effectively breaking protocol.
His wife was happy to oblige him and the little girl and posed with two older women as well. However, Harry broke protocol again as he took a phone from the group and actually took the photo himself.
The little girl in the image looks like the Duchess when she was much younger. The sweet moments weren't done yet as Harry made his way down the crowd.
He quickly spotted a familiar face, war widow Daphne Dunne, 98. She had previously met the prince twice and this time he went out of his way to introduce her to his wife.
On the same day, in Dubbo, Harry made a new friend in Luke Vincent, 5. The little boy drew people's attention for hugging and tugging at the prince's beard.
The little boy also received a hug from the Duchess.
Please fill in your e-mail so we can share with you our top stories!