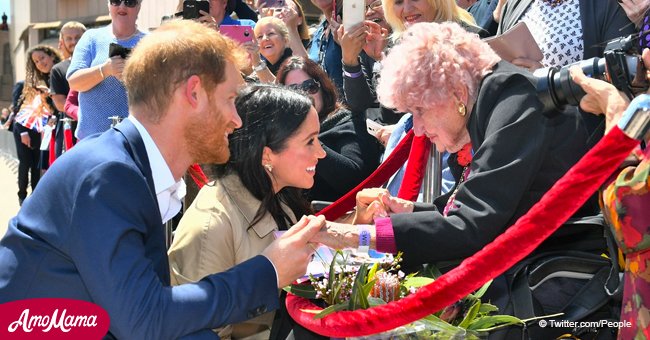 Prince Harry introducing Meghan Markle to a familiar 98-year-old war widow is captivating
On Monday, Prince Harry and his wife, Duchess Meghan, arrived in Sydney, Australia. There were many fans waiting to catch a glimpse of the Royal couple.
During a meet and greet, Harry recognized a longtime fan of his. He quickly went to greet her and even introduced the elderly woman to Meghan.
For their first public meet and greet since announcing the news that they were expecting, Duchess Meghan and Prince Harry came across hundreds of people. The crowd had gathered outside of the Sydney Opera House.
Harry made his way down the line and spotted a familiar face. He saw Daphne Dunne, 98, who is a war widow and his biggest fan.
For more on this story go to our Twitter account @amomama_usa. She had previously met him twice before, the first time was in 2015.
Breaking all sorts of Royal protocol, the elderly woman had memorably planted a kiss on his cheek. She met him again in 2017.
Harry greeted his friend with a long hug and as they spoke Dunne caressed his face and held his hand. The prince went out of his way to introduce Meghan to Dunne by calling her over.
Referring to the news about their pregnancy Dunne said:
"Congratulations, I think that's marvelous. It's just what Harry needs."
"It's fantastic. I'm so happy to finally meet you. I've heard so much about you. All good things."
Harry quickly noticed something different about his friend and said:
"I've seen your shoes, they're very cool…Have you dyed your hair a shade of pink?"
As they wrapped up their chat, Meghan wished Dunne a good day and said:
"Hopefully next time we see you, we'll have a little one with us."
The elderly lady shared with them that she thought they were wonderful together before handing them a card and some flowers. She also got to give Harry another kiss.
Inside the Opera House, the couple had watched a rehearsal of Spirit 2018 by the Bangarra Dance Theatre. The group is an internationally acclaimed Aboriginal and Torres Strait Islander dance company.
The Royal couple also went to the Taronga Zoo in Sydney to meet with conservation scientists. They also got to pet koala bears.
Meghan honored the continent by wearing a fitted white sleeveless dress by Australian designer Karen Gee. The dress was appropriately named the "Blessed" dress.
It featured a structured fit and sells for $1,800.
Please fill in your e-mail so we can share with you our top stories!