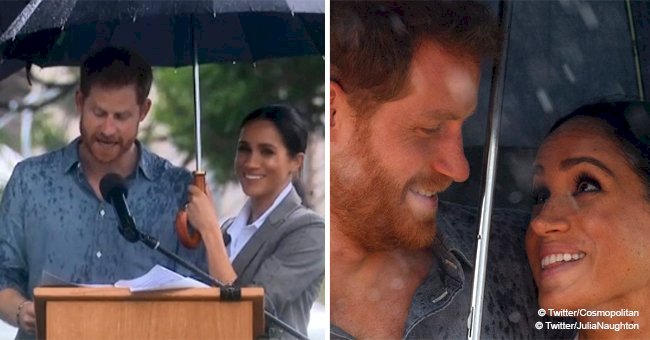 Touching moment Meghan holds an umbrella to shield Harry from torrential rain
Meghan Markle stepped up in the sweetest royal fashion for husband Prince Harry as he gave a speech under heavy rain Down Under.
The pair visited Dubbo, Australia to have a picnic. But the weather was less than ideal for the occasion.
Still, it didn't stop anyone from showing up to see the royals. And Markle adorably came through when it was time to shelter her husband.
Follow us on Twitter for more @amomama_usa.
As Harry, 34, gave a short speech to the attendees on the lawn, the Duchess of Sussex carried her large black umbrella to cover him.
"It's all right, I've got my wife," Harry said. Security drew back to allow the pair to share the cover.
Several times, Markle, 37, looked up dreamily at her husband as he spoke. He returned the act, making the whole scene appear like something out of a romance movie.
Afterward, Harry was given his own umbrella and the pair walked hand in hand.
The cute couple continued to exchange smiles as they walked on to another part of the tour.
Dubbo's Mayor Ben Shields called the rain a blessing in light of the recent drought the area was going through.
He joked that the prince had brought the "terrible English weather" with him.
On a more serious note, however, Harry addressed the increase in the local suicide rate. Young men in rural areas were killing themselves amid the two-year drought.
Meanwhile, the Duchess just announced the couple's pregnancy. She is already 12 weeks along.
The former actress found a lookalike during her visit to Sydney. Her husband couldn't resist taking a snapshot of the two.
The couple was doing a walkabout near the Sydney Opera House on Tuesday.
Harry noticed a young girl who had a slight resemblance to his own wife. He broke protocol so he could remember the moment.
"Do you want me to take a picture of you two together?" he asked her.
The girl's grandmother commented that "she looks a bit like you." Markle immediately agreed.
The Duchess also told the young girl, named Sethunya, that she loved her shirt. It read "Girls can do anything."
This should including making mistakes. Back in August, Markle experienced a small wardrobe malfunction.
While attending the wedding of Charlie van Straubenzee and Daisy Jenks, a button on Markle's blouse came undone.
Unfortunately, the Prince wasn't nearby to take care of the faux pas. But Markle rebuttoned her top immediately after she noticed what happened.
Please fill in your e-mail so we can share with you our top stories!