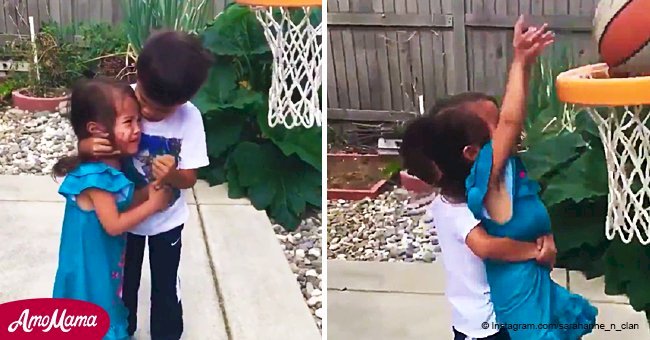 'Brother of the year' calms little sister with kisses and pep talk after a failure
This touching brother and sister moment melted hearts on the internet. The little boy was basically his baby sister's superhero.
Jaxon and his little sister Freelee Mora love to play like every other child. They more than likely fight like other siblings as well.
But when the two took to their driveway for a game of basketball, something wonderful happened. The clip is found below.
In the video, Freelee tried to get the ball into a child-sized hoop.
"Throw it," her brother said from the sidelines.
But the mini human barely missed as the ball fell right back onto her tiny nose.
Freelee burst into tears. Without missing a beat, Jaxon came running to comfort her.
He gave her an adorable kiss on her nose. Then came the heart-melting pep talk:
"You're strong!" said Jaxon.
He pumped his little fist as he held onto his sister. Then he asked if she wanted him to hold her up.
The tearful little girl nodded her head. Jaxon got the ball for her then lifted his sister up to the hoop.
Freelee took another shot and the ball went straight in. "Yea!" her dad said from behind the camera.
Freelee already had a smile on her face as she wiped away the tears. Her brother gave her several kisses in celebration.
Mother Sarahanne Mora shared the video to Instagram with the caption.
"My babies are going viral spreading a message of positivity, support, and love."
The two siblings' loving relationship is one that the whole world can cherish.
Another precious pair of siblings are sharing music together and the world loves it.
Little Bo, two, has down syndrome. This makes it difficult for him to speak. His older sister, Lydia, is helping him overcome the challenge.
Lydia sings and plays the guitar. Their mom Amanda Bowman Gray explained how her daughter spent months with Bo. Through her musical talent, she taught her brother his first words.
In a heartwarming clip, Bo's older sister sang "You Are My Sunshine" with him. Bo brought his mom so much joy as he sang words like "happy," "gray," "dear," and "away."
Source: YouTube/ Storyful Rights Management
In yet another inspiring sibling moment, twin boys went through a dangerous scenario.
Bowdy and Brock played alone in their room. They tried to climb a dresser but their weight instead brought it down onto them.
Brock was pinned by the weight of the dresser while Bowdy tried to figure out what to do.
Source: YouTube/ Crew Plus Two
Eventually, he realized he could push the chiffonier of off his brother and save him from possible harm.
The twins' parents shared the video to Facebook with much hesitation. Ultimately, they wanted to do what they could to prevent others from making the same mistake.
Please fill in your e-mail so we can share with you our top stories!