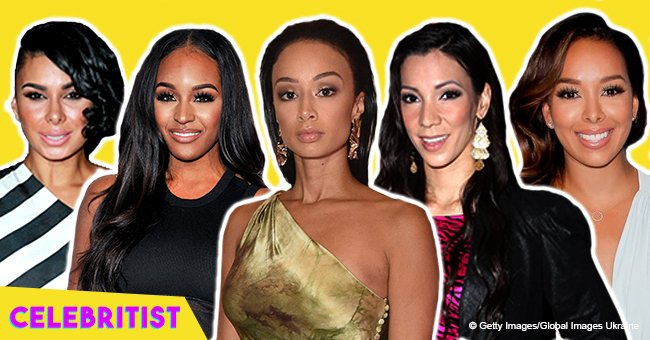 'Basketball Wives': Here's what happened to former contestants after the show

"Basketball Wives" is a reality TV show that hit people's screens for the first time in April 2010 addressing the lives of a group of girlfriends and wives of professional NBA players.
Given the fact that not everybody likes to be in the spotlight for a long time, the cast of the show has changed a lot over the years, and some people might not know what has happened to the previous members of the show.
Here is a list of some of the most influential members of "Basketball Wives" and what have they done after leaving the reality series.
ANGELA BRINKS
She dated NBA player Tyreke Evans for a while, and they even welcomed a daughter to the world named Amani. Soon after she left "BW," the couple split, and he has not posted a picture with Amani since December 2016.
Angela is now focused on her career as a fashion designer. Some of her clothes have been shown at New York Fashion Week and her line, called Angela Brinks Fashion, has been worn by Blac Chyna, Cardi B, Ashanti, and so on.
ANGEL LOVE
She was in a relationship with DeJuan Blair with whom she has a daughter. However, they split and are now living separate lives. During her first season of "BW: Los Angeles," her grandmother and younger brother passed away.
Apart from being a TV personality, she is a registered nurse and has appeared in several music videos for important artists, including Kanye West and T.I. At the moment, she is an Instagram star with more than 730,000 followers.
BRANDI MAXIELL
Jason and Brandi Maxiell had a very tough relationship during their time in "BW," and their struggles didn't end with the show. Jason recently admitted that he cheated on Brandi throughout their time together.
The man pointed out that he had been with 341 women. At the moment, the couple is trying to make amends and take decisions regarding their relationship.
DJ DUFFEY
She was engaged to Iman Shokuohizadeh in 2016, but things didn't work out between them, so they called it off after a while. Recently, DJ surprised her followers with some photos showing her much curvier body.
The reality star pointed out that she used a body shaping girdle and some "dietary drops." However, some people consider she got under the knife. At the moment, she is an Instagram model who promotes products on social media.
DRAYA MICHELE
After being linked to many NBA players, Draya finally found the love in Orlando Scandrick, the NFL player with whom she has a son. They have been together for six years, and they might be getting ready to walk down the aisle.
In a recent photo she shared next to Kylie Jenner, Orlando wrote: "You wanna get married [sic]," and Draya replied: "but let's go to courthouse when you land tho [sic]," giving a glimpse of their possible next move.
GLORIA GOVAN
After being married to Matt Barnes, Gloria started a relationship with NBA veteran Derek Fisher, to whom she got engaged in April this year.
Even though the relationship between Matt, Derek, and Gloria was very rough in the past, things are better now as Matt congratulated them on their upcoming wedding.
KENYA BELL
She took to Instagram earlier this year to post a photo of the new additions that she and her husband, ex-NBA player Charlie Bell, made to her family, her baby twins Kennedy and James.
Given the fact that she has been living a wonderful life out of the spotlight and that she considered that "BW" might bring disaster into relationships, she is not very likely to appear in a reality show in the near future.
LAURA GOVAN
She has been focused on raising her daughter, Izela. One of the main things she has been doing is passing down her talent as a basketball player to her.
Given the fact that Izela is also the daughter of former NBA player Gilbert Arenas, she is very likely to start a career in the basketball industry sooner rather than later.
SUZIE KETCHAM
She is one of the former members of the show who has been more away from the spotlight. Given the fact that she got a lot of backlash and negative messages during "BW'" most of her social media profiles are private.
Shaunie O'Neal, the former member of the show and current executive producer, admitted that they have tried to get Suzie back several times, but since her children live in Miami, she has refused.
Please fill in your e-mail so we can share with you our top stories!