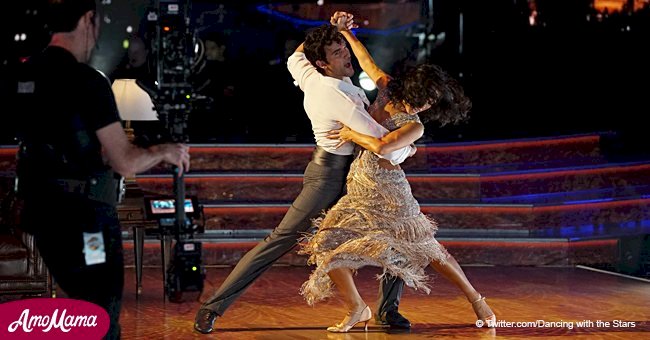 'DWTS' star reveals her 'Big Day' plans

A summer wedding in 2019 for the newly engaged couple after the long-awaited proposal.
Cheryl Burke, 34 and Matthew Lawrence, 38, met in 2006 after his brother, Joey introduced the pair on the third season of Dancing With The Stars. They dated in February 2007 for a year before breaking up in 2008.
Burke and Lawrence got back together in February 2017 due to a renewed 'commitment.' Lawrence took the commitment to a new level when he proposed to Burke on her 34th birthday on May 3, 2018, and arranged for family and friends to visit them the day before.
Her ring has a special meaning, it's the same diamond Steve Burke, her father, gave to her mother and with the help of his and Cheryl's mothers and XIV Karats, he had the stone reset and added more diamonds to create a unique ring. Cheryl's father passed away earlier on in the year which made the tribute even more touching.
Read more on our Twitter account @amomama_usa.
Later on, Sheryl commented:
"I'm in my 30s and with Matt, my fiancé now, it was kind of like: 'We're doing this, it's a commitment where we want to move on to the next level in our lives. I want to have a family, he does too."
They would love to say 'I do' in her mother's homeland but a destination wedding would probably not work for everyone, however, they definitely want a summer wedding but the bells would only ring in 2019.
Matthew recently moved in with Cheryl and they have already begun discussing expanding their family, however, the only expansion on the cards at the moment is moving in Matthew's many pets. Cheryl elaborates:
"He's building a zoo in my house for the animals. The tortoises just came over and the baby tortoises. The 25-foot-long iguana's on its way. He's building, like, a gated, cage. I come home sometimes at midnight, and he's down there working … I'm marrying his iguana and his tortoises!"
However, when she does become a mom she doesn't want her children involved in the dance world, knowing herself what it is like and says:
"It's a lot of pressure, and they have to grow up way too fast. That's what I did. I don't want them to grow up fast, I want them to stay kids forever … they can be doctors, they can be lawyers, they're not dancers. I can't do it."
The couple has not announced a wedding date yet and still in the process of locking down a venue for the wedding. Wedding bells are ringing all over Dancing With The Stars as Val Chmerkovskiy and Jenna Johnson announced their engagement in June 2018 via social media. The Dancing With The Stars professional dancers got engaged in Venice, Italy and Val Chmerkovskiy declared on Twitter:
"I can't wait to make you my wife.."
Johnson also excitedly shared the first image of their proposal on Instagram with the caption:
'I knew the moment I met you, you were the man of my dreams and I wanted to be with you forever.'
Please fill in your e-mail so we can share with you our top stories!