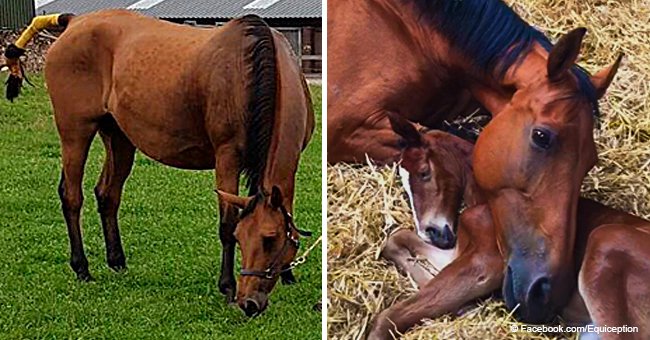 Mother horse suffers depression after delivering a stillborn foal until she met an orphaned colt
A horse named Zindita was crushed by the loss of her infant. Then the doctors introduced her to a baby horse who lost her mom.
In 2016, Zindita was due to welcome her foal. Unfortunately, she started giving birth early, and her baby was upside down in her womb, making the situation risky.
The Equiception center's workers were able to save her, but the foal was tragically stillborn.
"So we don't just put embryos in mares, sometimes we have to also pull them out, and unfortunately not always with a happy ending. Luckily the mare is alive and well. Realities of breeding horses," the center wrote on Facebook.
Follow us on our Twitter account, @amomama_usa, to learn more.
Zindita experienced depression by the death of her baby. But when God closes one door, he opens another.
Only a few days later, a veterinarian told the staff members that a different foal lost her mother during her birth.
The poor animals endured unpleasant misfortunes at the time, but the doctors saw a chance to help mend their broken hearts. They would bond the two.
"Two days ago, a group of people came together, working as a team. Saving a mare in labor but losing the foal," the center wrote. "Today a group of people, working together, the same mare as two days ago, was introduced to a foal who had lost her mom."
The two horses were inseparable within an hour.
Mother horses usually don't always acknowledge a baby horse that isn't their own. However, Zindita fell in love with her new foal immediately.
The horses have continued to bond since then, and Zindita takes exceptional care of the young horse.
They may not be connected by blood, but the love this adopted family shares is compelling.
Hopefully, when this pony grows up, she can be a useful horse like Zindita.
Please fill in your e-mail so we can share with you our top stories!