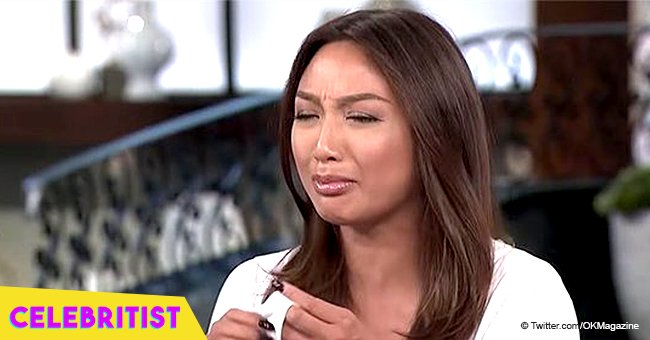 Jeannie Mai breaks down in tears after revealing she regrets marrying Freddy Harteis
Jeannie Mai gets emotional while confessing new details about her ex-husband who she now regrets marrying.
Jeannie Mai broke down on the set of "The Real" after opening up about the aftermath of her divorce from her husband, Freddy Harteis. In tears, she said if she could do it all over again, she wouldn't have married him.
WHEN THERE WERE NO REGRETS
Jeannie and Freddie split up in October last year and it seemed like an amicable separation. She even admitted that part of the reason things didn't work out was her decision not to have any children. Months after they split, Jeannie had no regrets about leaving her husband and even said she became a better person because of it.
Meanwhile, Freddie seemed to have moved on himself. Six months after the separation, he announced that he and his girlfriend, Lindsay Toole were expecting a child. Jeannie appeared fine with the news and was even happy for him when she spoke about it in an episode of "The Real."
"When I look at him, and I see that he's moving on, I see the man I always knew he could become, and I see myself falling more in love with a version of me that wasn't able to be there when we were together. I know I made the right decision, and I'm thankful for God to love me no matter what, and be beside me."
FILLED WITH REGRET
But now it seems Jeannie is facing new issues about her husband which led to an emotional confession on her show. Jeannie revealed she now regrets marrying the man after learning the truth about him during their divorce.
"Knowing what I know now about who I married, I wouldn't have married him," Jeannie said while trying to hold back her tears.
Jeannie added that she learned divorce can change people.
"It's just so weird because the one thing that he would always say back then is like, 'You really, truly don't know a person until they don't get what they want.' But I never thought he would be the one to prove that to me."
Jeannie was very open about still loving her husband even past their divorce. But that changed when she discovered sides of him that were never there before. It made her wonder who she really married.
"When somebody shows you who they are, you just are like, 'Did I know the real you or is this the real you?' And so it's just really hard. We're not talking about a couple years. We're talking about 10 years."
WHAT CHANGED
Jeannie also clued in on what caused her husband to change when she opened up to "The Breakfast Club" previously.
"I would say, when money got involved, and ego."
"This is where you learn how things change. People say money changes people. So does ego and so does social media. And so does the press. I think that all of that mixed in between— you really gotta keep yourself grounded."
Since her divorce, Jeannie has been taking care of herself. She put on more weight and delighted in her heavier, healthier body. She admitted losing a lot of sleep and weight during her marriage crisis but later realized she needed to look after herself.
Jeannie may be crying now but she knows herself better today, even if her husband of 10 years seems like a stranger now.
Please fill in your e-mail so we can share with you our top stories!