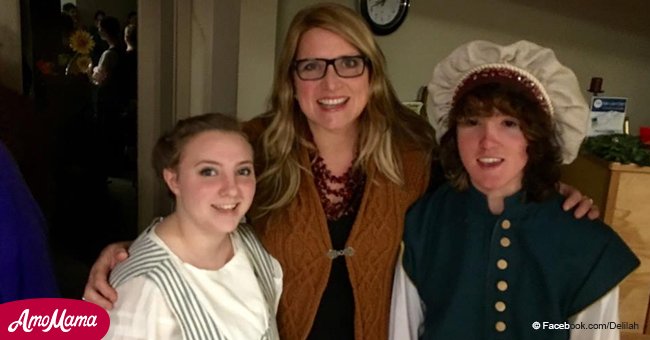 Radio icon breaks her silence a year after her son's suicide

In a recent interview for Good Morning America, the "most-listened-to woman in America" opened up about the loss of her 18-year-old son Zachariah, while promoting her new book "One Heart at a Time."
On October 16, 58-year-old radio host and author Delilah Rene, better known solely as "Delilah," like her signature namesake radio program, visited the ABC morning show and talked about one of the most difficult years of her life.
"One Heart at a Time" is the book she wrote following the devastating suicide of her son, which is now out nationwide in the US. Delilah hopes that the book helps break the taboo surrounding teenage suicide to help other families.
But apart from her determination to generate a discussion about this alarming issue, writing the book was a healing process for Delilah, who took a rare break from the show she has fronted since 1984 to deal with her feelings.
"I couldn't at first — I couldn't write, I couldn't talk about it," Delilah told GMA's Robin Roberts, but thinking about other people going through the same gave her the energy she needed. Read more on our Twitter account @amomama_usa
"I do want parents to know. We need to talk about teenage suicide. And we need to start having open conversations as painful as they are," she said. "Because it's epidemic."
-Delilah, Good Morning America, October 16, 2018.
After 34 years offering advice to thousands of people who call to her show, and entertaining millions of listeners, her loyal fans were there for her when she most needed support and understanding.
"I would not be standing if it weren't for the prayers of my friends, my family, and my listeners," the radio star acknowledged.
"So many listeners sent the most beautiful thoughts and prayers [and] shared their own stories of loss ... and grief, and what helped them get through," she added.
More than a year before her emotional interview, Delilah took to Facebook to make the terrible announcement about her son's suicide.
"My dear friends, I need to share some devastating news with you. In the early morning hours, Tuesday, October 3, my son Zachariah, took his life," she shared with her 1.6 million followers.
My heart is broken beyond repair and I can not fathom how to go on…but I have to believe he is at peace with the Lord and that God will get us through," she added.
Zacariah is not the first child Delilah has lost. She also lost her son Sammy Young Dzolali Rene in 2012 to sickle cell anemia. Sammy was one of her ten adoptive children, while Zacariah was one of her three biological children.
"Our world is in trouble on so many fronts, and it's hard to be up against forces so enormous and powerful when you are one person, one heart, trying to effect change. Sometimes I feel like a tiny mouse facing down a rhinoceros," she writes in her new book.
"So how do we change the world? The answer: one heart at a time. I'll start by sharing my heart with you," a hopeful, faithful Delilah adds.
The National Suicide Prevention Lifeline is 1-800-273-8255. Other international suicide helplines can be found at befrienders.org.
Please fill in your e-mail so we can share with you our top stories!