Alan Jackson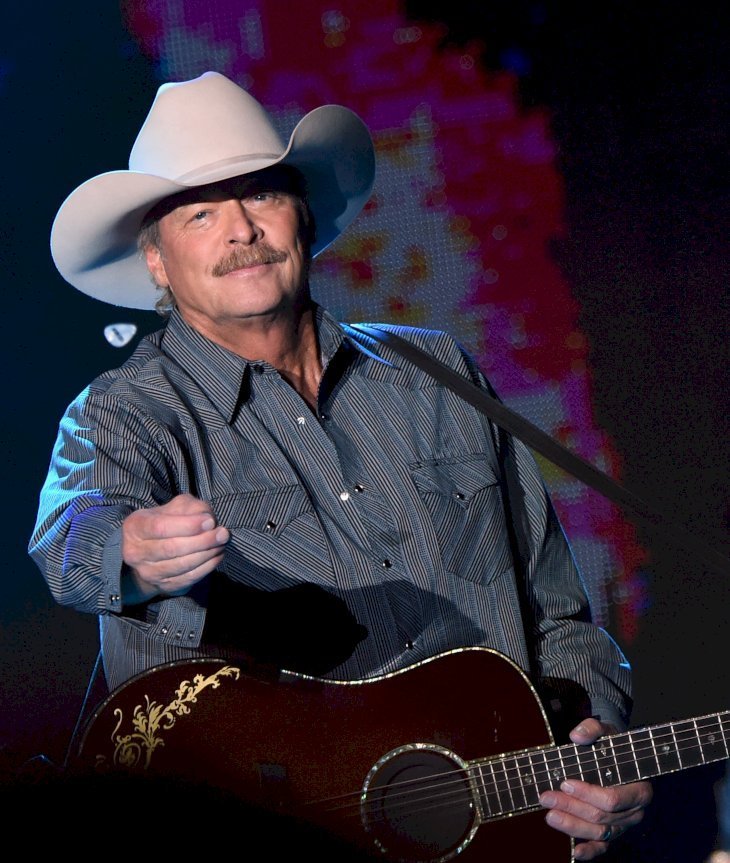 Content
| | |
| --- | --- |
| Full Name: | Alan Eugene Jackson |
| Date of Birth: | October 17, 1958 |
| Place Of Birth: | Newnan, Georgia, United States |
| Zodiac Sign: | Libra |
| Age: | 59 years old |
| Height: | 1.93 m |
| Professions: | Singer, songwriter |
| Famous As: | a country musician |
| Net Worth: | $75 million |
| Spouse: | Denise Jackson (m. 1979) |
| Social Media:  | Facebook, Twitter, Instagram, IMDb, Wikipedia |
Who is Alan Jackson?
Alan Eugene Jackson is an American country singer and songwriter who is known for blending traditional honky tonk and mainstream country sounds. He writes most of his music himself and has recorded 16 studio albums, three greatest hits albums, two Christmas albums, two gospel albums, and several compilations.
Alan Jackson is a two-time Grammy Award winner who has also won 16 CMA Awards and 17 ACM Awards. He is a member of the Grand Ole Opry and has been in the Georgia Music Hall of Fame since 2001. Alan Jackson is also named on the Country Music Hall of Fame and the Nashville Songwriters Hall of Fame.
Early life:
Alan Jackson was born on October 17, 1958, to Joseph Eugene Jackson and Ruth Musick Jackson. He was born in Newnan, Georgia, and has four older siblings. The Jackson family initially lived in a small home built around his grandfather's old toolshed.
Alan Jackson's family is primarily of English descent. He used to sing in the church choir as a child and wrote his first song in 1983. At the age of 12, Alan Jackson got a job at a shoe store.
When he was younger, he listened to gospel music and was not a fan of many other genres until he was introduced to songs by Gene Watson, John Anderson, and Hank Williams Jr.
Jackson schooled at Elm Street Elementary before moving on to Newnan High School. After graduating, Jackson started a band. At the age of 27, he and his wife, Denise, moved to Nashville so that he could pursue a career in music full time.
Career:
In Tennessee, Jackson started working at The Nashville Network's mailroom. His wife then introduced him to Glen Campbell, who helped boost his career. In 1989, Jackson signed with Arista Records.
Later that year, his debut single, "Blue Blooded Woman" was released, followed by the album, "Here in the Real World."
"Don't Rock the Jukebox," his second album, was released in 1991. Jackson also co-wrote a few songs for Randy Travis' 1991 album, "High Lonesome."
His third album, "A Lot About Livin'," saw him win the Country Music Association (CMA) awards for Single and Song of the Year in 1994. In the same year, Jackson changed management companies from Ten Ten Management to Gary Overton.
Late 1994, Jackson released his fourth album, "Who I Am." The record had four number-one hits: "Summertime Blues," "Livin' on Love," "Gone Country" and "I Don't Even Know Your Name."
In 1996, he appeared in the "When Harry Kept Delores" episode of "Home Improvement." In the episode, he sings his hit song ,"Mercury Blues."
Jackson's "The Greatest Hits Collection" was released on October 24, 1995. It contained 17 hits, two new songs, and the song "Home," from "Here in the Real World." The two new songs made it to number one on the charts.
In 1996, his fifth album, "Everything I Love," was released. The album was packed with hits, and only the single, "House with No Curtains," missed the top ten charts.
1999 saw the release of Jackson's album, "Under the Influence." He then took the risk by releasing an album of covers of country classics while he added his spin to it.
In the 2000s, as country music was changing towards pop music, Jackson collaborated with George Strait in the song, "Murder on Music Row," to criticize the direction the industry was headed.
After the September 11 attacks in 2001, Jackson released the song, "Where Were You (When the World Stopped Turning)." The song was a tribute to those killed in the terrorist attacks.
In October 2002, Jackson released a Christmas album, titled "Let It Be Christmas." And in early 2003, Jeannie Kendall sang a duet with Jackson on her first solo album.
In 2006, Jackson released his first gospel music album entitled, "Precious Memories," after his mother requested it. The album was supposed to be just a side project.
Months later still in 2006, he released the album, "Like Red on a Rose," which was certified only as a Gold Record. The sound of the album was more experimental and upset many fans.
However, he returned to his country roots with his 2008 album, "Good Time." It launched on March 4, 2008.
Two years later, Jackson released his sixteenth studio album, "Freight Train," on March 30, 2010. Later that year, he released another greatest hits package, "34 Number Ones."
Then in January 2011, Jackson and the Sony record label parted ways, and Jackson teamed up with Capitol's EMI Records Nashville. They had a joint venture between ACR (Alan's Country Records) and Capitol, resulting in all records being released and marketed through Capitol's EMI Records Nashville label.
2012 saw Jackson release another album, "Thirty Miles West." None of the singles on this album reached the top 20.
A year later, Jackson released his second gospel album, "Precious Memories Volume II."
2015 started on a high note as Jackson began his 25th-anniversary Keepin' It Country tour. Then in July  2015, he released his twentieth studio album, "Angels and Alcohol."
In August 2016, Legacy Recordings released a collection of three CDs and a digital version of "Genuine: The Alan Jackson Story," which included 59 tracks of which eight of the tracks were previously unreleased.
Personal life:
Alan Jackson and Denise Jackson were high school sweethearts. They decided to get married and tied the knot on December 15, 1979. Together they have three daughters: Mattie Denise, Alexandra Jane, and Dani Grace.
In 1998, Jackson and his wife separated after his work and infidelity took its toll on the marriage. However, the couple later reconciled.
In 2010, Alan Jackson sold his house outside Franklin, Tennessee for $28 million, one of the highest prices ever for a home sale in the Nashville area. He then moved into a home in the same Nashville suburb, but a year later listed the house for sale.
Jackson is close friends with George Jones, and in 2008 Jones was a surprise guest at Jackson's CMT Giants ceremony. Another close friend of Jackson is George Strait, who sang "Murder On Music Row" with him. He has also maintained his friendship with David "Bird" Burgess even after Burgess left the country music scene to pursue other avenues.
Albums:
Awards/Achievements:
 Received six nominations in 1989 at the Country Music Association Awards (CMAs)
Became a member of the Grand Ole Opry in 1991
Received six nominations, including best entertainer, male artist, vocal collaboration, album, single, and video at the 29th annual TNN/Music City News Country Awards
Received four nominations, including Entertainer of the Year at the 1994 CMAs.
Inducted into the Georgia Music Hall of Fame on October 22, 2001
Received ten nominations at the 2002 CMAs
Won Album of the Year for "Drive," and Video of the Year at the 2003 Academy of Country Music Awards
Received a star on the Hollywood Walk of Fame in 2010
Inducted into the Country Music Hall of Fame in 2017
"A country song is a song about life."  ~Alan Jackson
Trivia:
His song "Midnight in Montgomery" tells the story about the singer's encounter with the ghost of Hank Williams, who was waiting for him on New Year's Eve, which was the night in 1952 when Hank died
He was awarded a Star on the Hollywood Walk of Fame for Recording at 6801 Hollywood Boulevard in Hollywood, California on April 16, 2010
Inducted into the Georgia Music Hall of Fame in Atlanta, Georgia on October 22, 2001