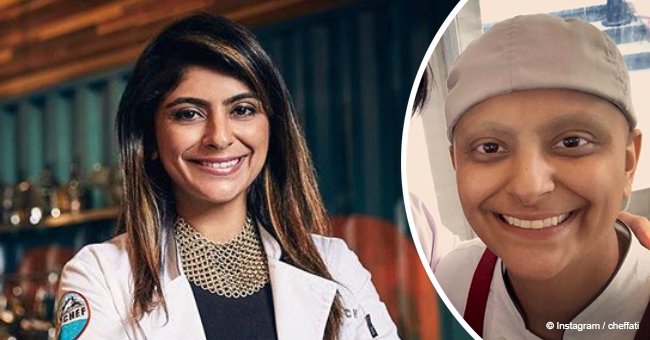 'Top Chef' star reveals she's only got a year left to live
Fatima Ali focuses on what she still wants to experience in the time she has left.
In 2017, Fatima got diagnosed with a rare form of cancer, Ewings Sarcoma, it's a cancerous tumor that grows in the bones or soft tissue around the bones such as cartilage or nerves and often begins in the legs, bones of the pelvis and arms.
She received chemotherapy and had surgery which was successful and in February the doctors declared her in remission. Ali was eager to get back to her passion and appeared in the public cooking event 'Goldilocks and the Three Top Chef Bears,' held at Pebble Beach Food and Wine Festival.
She was joined by other 'Top Chef' contestants Tyler Anderson, Bruce Kalman, and Elizabeth Falkner. The event started April 5, 2018, happy to return to life as she knew it.
Born in Pakistan she is known for her bold flavors and love for food, however, in September 30-year-old Fatima got news from her oncologist. The cancer is back, having spread to her left hip and femur bone, and even with the new chemotherapy regimen, she has a year left to live.
The terminal diagnosis gave her a new perspective on life and she decided to write about it, to share. Feeling a desperate need to overload her senses knowing she does not have all the time in the world to experience all the tastes and flavors she is making reservations at the world's best restaurants.
She also reaches out to friends and family where she once valued her time spent in other ways, thinking there will always be opportunities for that later on. Fatima made a list of people she would like to make amends with before it's too late and keeps the napkin she wrote the names on in her wallet and writes:
"I have to learn how to ask for forgiveness without expecting to receive it. It's probably the most frightening thing I have ever had to do, and I've experienced some seriously terror-inducing moments."
With her thoughts focused on how she spends her time she recalls having spent more time in hospital rooms in the past year than she has in her own apartment, the staff has become part of her family.
Her positive attitude towards her new reality stuns those around her but explains that when one hits rock bottom the only place to go is up. The 30-year-old also finds an unusual sense of relief that can now live for herself during these months ahead. Indulging in odd pleasures she called a local stylist to dye her hair platinum blond, embracing her alter ego without holding back.
Everyone sees her positive side, thinking her brave, but she admits to being scared, suspecting that she won't last long, feeling it deep inside her gut. This only spurs her on to make the most of the time she has left and made plans to eat her way through every New York borough she can.
Her thoughts go to her favorite movie, American Beauty when Mena Suvari says to Kevin Spacey:
"I don't think that there's anything worse than being ordinary."
These words have taken on a different meaning to Fatima now, desperately wishing to have a simple, uneventful life.
Marcia Cross can relate in part with Fatima Ali's journey, as she too got diagnosed with cancer, sharing her time and emotions with her family, friends, and followers. In remission, the former 'Desperate Housewives' star went public with her battle with cancer and shared a range of photos on Instagram. One picture that showed the absence of her flowing red hair has a caption that reads:
"So grateful and happy to be alive but sad that my hair fell out and is about 1 inch long now and looks cra-cra. Anyone else have #hairloss due to #cancer? Talk to me. I feel you."
Following a hard journey, she is happy and healthy, grateful for the gift of life and making the most of it. Cancer treatments are expensive, and all treatments are not the same with some only being available at certain hospitals around the world. This rings true for 4-year-old Zac Oliver, who got diagnosed with a rare form of leukemia called Near Haploid.
The NHS is currently not able to treat this rare form of cancer and Zac needs to get to Philadelphia in the United States to receive CAR-T therapy. Zac's crowdfunding page is meant to gather the funds required for him to get the treatment he so desperately needs.
The family has raised about $460,000, and when Simon Cowell learned of Zac's plight he decided to donate money as well, bringing the tally to about $526,000, with around $131,000 left before reaching their goal.
Simon Cowell released a video pleading Zac's case and asking others to donate and said:
"This boy is four years old and needs money to get him to America to get the help he needs. So I want you please to go on Zac Oliver's JustGiving page and whatever you can donate will make a difference."
Please fill in your e-mail so we can share with you our top stories!