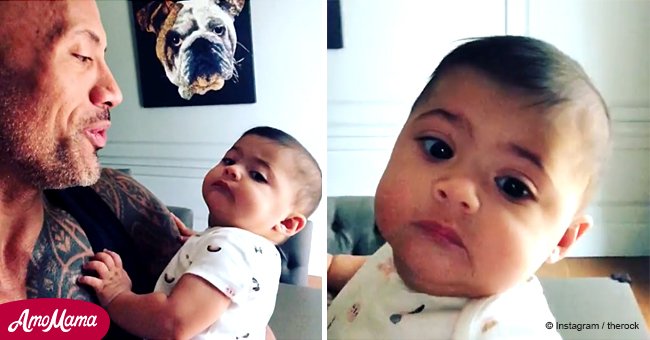 Dwayne Johnson sings to his little girl Tiana, and the baby's reaction is pure love
On Wednesday, Dwayne "The Rock" Johnson took to Instagram to celebrate a big milestone for his last born. He posted a video where he sang "Happy Birthday" to his daughter.
The lovely clip, which showed Johnson's love for his daughter, ended on a funny note as the little girl appeared to be distracted.
Dwayne "The Rock" Johnson's youngest child, Tiana Gia, just turned 6 months old on Wednesday. The star took to social media with a video to wish her well on the day.
In his video, he was seen holding Tiana Gia in his arms as he sang to her. The lovely moment was overshadowed by how distracted the little girl was.
For more on this story go to our Twitter account @amomama_usa. Just as he finished the song and told the little girl he loved her, she started becoming fussy.
Johnson, 46, translated the child's emotions mimicking what her voice would sound like by saying: "'I just want breast milk!'" Then Tiana Gia started crying.
He teased her saying, "Yeah. Don't we all" before laughing and cutting the clip. In his caption, he explained why he was celebrating this milestone.
The actor wrote:
"Happy 6 month Birthday to our lil' disrupter, Tiana Gia. We're a family of non-traditionalists so we celebrate everything… @laurenhashianofficial #TeamBreastMilk."
Johnson has another child with longtime partner, Lauren Hashian, 34. They are parents to 2 ½ -year-old daughter Jasmine.
He also has a daughter, Simone, 17, from a past marriage. Earlier in the month, he joked about his singing in another post where he was seen cradling a sleeping Tiana Gia.
In the caption, he explained that he'd taken his daughter planning to sing to her. However, by the time he started singing the second verse of the song, the little girl was already fast asleep.
He wrote: "Good Lord my honey-coated gravel voice is effective. I'm feelin' very good about myself right now." But then Tiana Gia pooped and he joked that he was now "Questioning how I should interpret this entire emasculating situation."
Johnson loves posting clips of him and his children. This year on International Women's Day, he took to Instagram with a cute video where he taught Jasmine how to say "Girl Power" and other long sentences.
The little girl just mumbled the longer sentences and her father was proud either way.
Please fill in your e-mail so we can share with you our top stories!