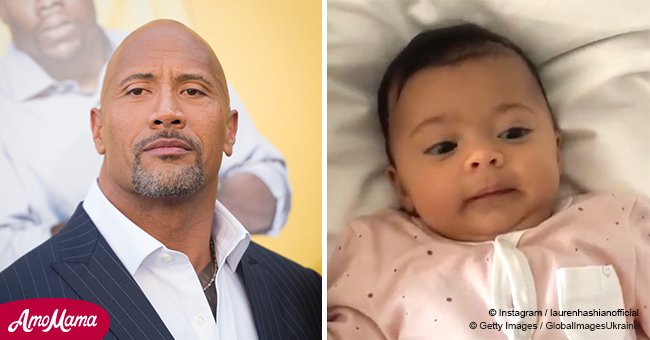 Dwayne Johnson has a sweet conversation with daughter Tiana (video)
Tiana Gia, Dwayne "The Rock" Johnson's three-month-old daughter, may not have started to talk yet, but seems like she is indeed not scared to convey what is on her mind.
Johnson's girlfriend, Lauren Hashian, shared an adorable video of a chat they had with their very expressive baby girl on Instagram on August 3, 2018
Hashian captioned the clip "Morning convos," and the clip showed the actor spending some quality time with their daughter.
The 46-year-old actor, most probably talking about his daughter's next meal, asked the baby, "Would you like those chilled or...?" To which Hashian added, "On the rocks."
Tiana gives her response after she is given the two options. She made a few different sounds and cried out while suddenly looking around with her wide eyes.
"Yes, we can go there," Johnson observes, after which his daughter straight away gives a big smile and starts letting out some more expressive cries.
As a response to his daughter's latest communication, Johnson replied that he loved her fantastic idea.
He asks his daughter if she would like to say some more, to which Tiana smiles and gives out another little screech.
When Johnson starts to respond again, asking his baby what she would like, he is cut off mid-sentence as Tiana lets out her biggest scream yet.
The video ends with Johnson remarking that both Hashian and he love the song as well.
Johnson has two daughters with Hashian, two-year-old daughter Jasmine Lia and Tiana Gia.
The former WWE wrestler had announced that he was expecting his second daughter with Hashian in late April 2018.
Johnson frequently shares photos or videos of him with his children on his Instagram account with his 112 million followers.
On July 19, The Rock had posted a video on Instagram in which he had another conversation with his daughter. He confessed that he fishes for compliments from her.
The clip begins with Johnson telling Tiana that she had the "coolest daddy in the world."
He also joked that he spoke the same way with his colleague, Kevin Hart.
Please fill in your e-mail so we can share with you our top stories!