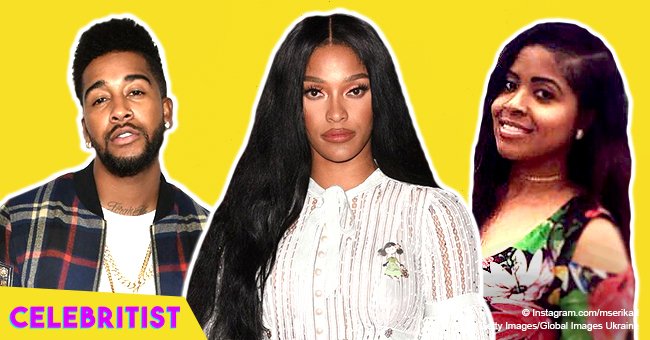 'Love & Hip Hop': Here's what happened to former castmates after leaving the show
"Love & Hip-Hop" is a media franchise with several reality shows chronicles the personal and professional lives of several hip-hop and R&B musicians, performers, managers, etc.
As a way to keep things fresh and create different types of content, the cast of the show has changed a lot over the years. While some people might know a lot about them, some others might not know what has happened to the previous members of the show.
Here is a list of some of the most influential individuals of "L&HH" and what have they done after leaving the reality series
ERIKA D.
Ever since she focused her life on the son she had with Mendeecees, Aasim, she has not been in the spotlight that much. One of the most recent outings Erika took place almost a year ago.
She and Aasim went on a mother-and-son Fashion Play Date event where several other celebrities also were present with their children.
JOSELINE HERNANDEZ
The "Puerto Rican Princess" is probably the "L&HH" star who has received more backlash as people started commenting on her relationship with her ex, Stevie J, for allegedly not letting him see their daughter, Bonnie Bella.
Apart from that, she has been sharing several tweets attacking Stevie, who recently married Faith Evans, for not fulfilling his child-support duties.
SAMANTHA WALLACE
Thanks to her degree in Dental Hygiene, she doesn't really need to be in front of the cameras to make money. Last year, Samantha took to social media to reveal that her son, Lil' Mendeecees, hadn't heard from his father for ten months.
She added that her son's father, Mendeecees, was neglecting him from jail, something that was deeply affecting the boy's mental health.
HAZEL-E
Joseline is not the only former member of "L&HH" who has got backlash as Hazel-E has received a fair amount of it, too. Her case is different, though, as it is related to her hate to dark-skinned women.
In one of her most recent post, she appeared posing in what seemed to be an elevator with the caption: "They say I look like a white woman… maybe it's cuz I look expensive [sic]." People quickly took to the comment section to point out that both things were not related, and that she looked "cheap."
LOVELY MIMI
Mimi proved to be somehow different from the rest of the cast members of "L&HH" from the very first time she appeared in the series. Even after her departure, her point of view on dating and relationships proved the previous statement.
Before Valentine's Day this year, she revealed that she has never wanted a man who buys her things or pays "her way for anything." For Mimi, the real important thing is how they spent their time together and not the gifts that her man could buy.
JOE BUDDEN AND CYN SANTANA
Even though it's been more than four years since Joe and Cyn appeared on "L&HH," they decided to join the upcoming season of the show, which is expected to premiere this November.
Since their last appearance in 2014, they started dating and even welcomed a child in December 2017. At the moment, they are living their best life while taking care of their baby.
SEXXY LEXXY AND MS. MOE MONEY
While they were introduced in the series as a duo called BBOD, they parted ways soon after leaving the show and embarked onto different solo careers.
Earlier this year, Sexxy Lexxy went to the radio show "Shade 45" to talk about her career, and she even took her time to freestyle.
OMARION
Even though Omarion and Apryl Jones had been together for a long time, and that they even had children together, they "mutually decided" to end their relationship in 2016, soon after leaving "L&HH."
"We continue to love and support one another and still share a common goal to remain friends while being great parents to our children," wrote Omarion in a now-deleted Instagram post.
APRYL JONES
Omarion's ex recently took to her Instagram story to set clear that she didn't miss him. She made sure to point out, though, that he is the father of her children and that she wished him "the absolute best."
While most of the former members of "L&HH" have chosen a calmer life away from the spotlight, all of them have been doing all they can to live as good as possible. Fans can't help feeling somehow nostalgic when reading about them, though.
Please fill in your e-mail so we can share with you our top stories!