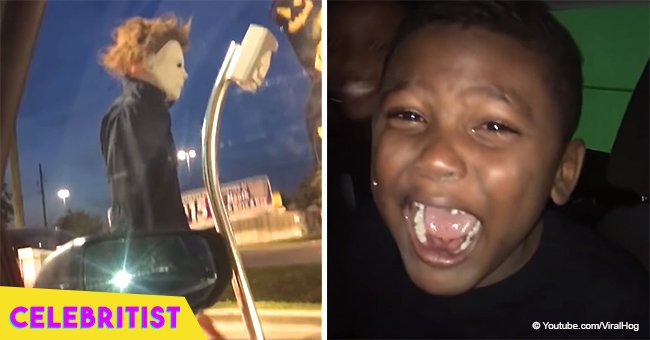 Video of 3 boys in 'haunted' car wash goes viral after their terrified reactions
Watch this video of three boys who dared themselves to enter a haunted car wash and ended up screaming their heads off.
Because Halloween is just around the corner, we thought we'd share to you this tale of the haunted carwash.
In a car wash in Spring, Texas, three young boys screamed in horror when they encountered two scary-looking men while inside their family's vehicle. In a video that's gone viral, a boy is seen hiding under the glove compartment while a voice repeatedly shouts
"I wanna go home!"
IT WAS THEIR IDEA
It was quite ironic considering it was the three boys' idea to stop by GFY Express Car Wash on the way home. They came from a Sunday of laser tag and mini golf. The service center is known to feature haunted actors every October. According to the driver of the car, the boys even begged to drop by the station. They loved scary movies and wanted to see how they'd react to the live version of Michael Myers of "Halloween" and Twisty from "American Horror Story."
NOT WHAT THEY EXPECTED
It turned out, the boys, ages eight, six, and three, couldn't handle being in close proximity to the masked killers. One boy started crying and screaming, "I wanna go home" over and over. He began hyperventilating when Michael Myers approached their car door. The video later revealed another boy hiding below the passenger seat.
It didn't take long though before the three boys came to their senses and realized the characters were fictional. They even shared a few hugs with the once-terrifying characters. Here's the full clip of their terrifying experience.
A NEW TREND DURING HALLOWEEN
It's been a tradition for most establishments to find a way to celebrate the Halloween season. For some, it's adorning their place with scary décor. For others like the car wash, their employees dress up as horror-inducing characters. More recently, a new trend has emerged by way of teal pumpkins. The idea came from a lady named Becky from Tennessee who thought of a way to protect children with allergic reactions to Halloween candy treats. She suggested the use of teal-colored pumpkins for non-food treats that are allergy-friendly.
According to the Food Allergy and Research Education (FARE), almost 6 million children suffer from food allergies. It would be sad to deprive them of the fun of Halloween if they can't enjoy treats that are healthful to them. With the teal pumpkins, they have an equal opportunity to share the spirit of the frightful season along with other non-allergic kids.
Please fill in your e-mail so we can share with you our top stories!