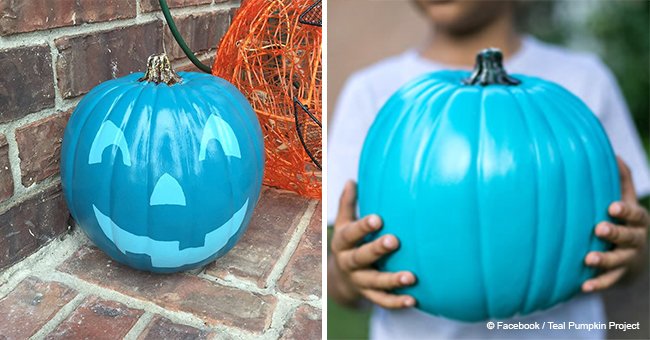 Here's why you may be seeing a lot of teal pumpkins this Halloween
If you notice teal pumpkins this Halloween, they're not only for design. Here's the reason why.
As reported by USA Today, teal pumpkins are signals for children with food allergies, so they know where they can discover safe treats. Follow us on our Twitter account, @amomama_usa, to learn more.
In 2012, a lady named Becky, from Tennessee, had a thought: What if Halloween could be made somewhat less precarious for kids with food allergies?
Two years later, Becky's idea became what is currently the Teal Pumpkin Project launched by Food Allergy and Research Education (FARE).
The project is an across the country effort to urge families whether their own offsprings have food restrictions or not.
The premise is basic: You simply put a teal-colored pumpkin or sign outside your entryway and offer trick-or-treaters glow sticks, insect rings, Halloween stickers or other non-food treats, alongside or rather than the customary candies.
The tale pumpkin creates an impression that you know about the issues these children face and will make accommodations to help address their needs.
FARE reported that food allergies afflict almost 6 million youngsters in the U.S..
As indicated by the senior director of communications, Nancy Gregory, FARE originally advanced the idea nationwide in 2014 with the assistance of a Facebook post that has circulated the web.
Gregory added that around one million individuals visited the group's site to get information in 2015. About 10,000 of them put their homes on an intuitive guide indicating teal pumpkin sites, she proceeded.
"Our goal is to have a home on every block in America with a teal pumpkin. We hope that it becomes a new Halloween tradition," said Gregory.
Add yourself to the participation map at foodallergy.org in the event that you intend to partake in the Teal Pumpkin Project, so families in your place realize that they can go to your home for allergy-friendly trick-or-treating.
Use the guide to discover teal pumpkins in your area if your child is the one who needs a non-food treat.
Please fill in your e-mail so we can share with you our top stories!