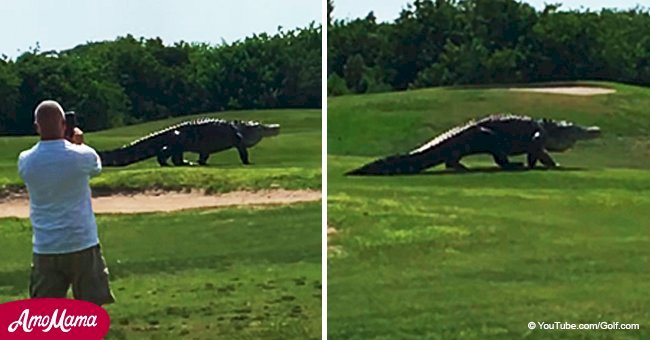 Chubbs, a giant alligator, spotted sauntering along a golf course in a US state
A day of golfing turned into something straight out of a "Jurassic Park" movie when Sage Stryczny saw Chubbs. The alligator strolled along its merry way while being filmed.
According to FOX 5, Stryczny was with his father at the Buffalo Creek Golf Golf Course when the massive alligator came into sight. Quick-thinking, Stryczny started recording the reptile.
Chubbs is actually a regular at the Palmetto, Florida golf course. He adopted his name from locals. They took it from the film "Happy Gilmore."
Follow us on Twitter for more @amomama.
Chubbs Petterson was a character who lost his hand in a gator incident. But golfers don't have to worry about that with Chubbs the gator.
The manager says that the reptilian resident "doesn't hurt anybody." So when Stryczny told his dad to go next to him to show a relative size, there was nothing to worry about.
Of course, Stryczny's dad was still a distance away. But the comparison showed how the alligator could indeed be about 15 feet, as estimated by Stryczny.
Male American alligators have been known to grow up to 15.1 feet long while the females are smaller. They reach up to 9.8 feet in length.
While Chubbs has proven himself to be a gentle giant, another gator was quite different.
A man had his friend record him while he approached a gator. The man grabbed the reptile by the tail and held it. He attempted to pull it on to land.
His friend who was filming said:
"I'll tell you if it bites you, do not worry."
When he was done with his stunt he tried to flee. The alligator, however, was bitter about being manhandled.
Source: YouTube/ ViralHog
He went after the man and attempted to bite him. The man luckily got away without entering the creature's large jaws.
He asked his friend, "Have you ever seen someone that size run so fast?"
Please fill in your e-mail so we can share with you our top stories!