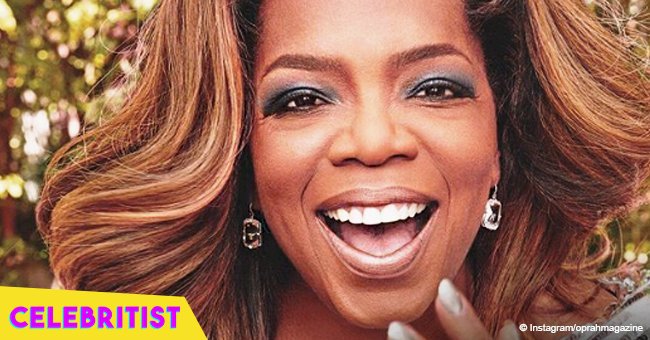 Oprah rocks tight yellow trousers in recent pic after revealing health scare
Oprah Winfrey, the actress, host, and media mogul, recently posed in a beautiful outfit for the November issue of "O, The Oprah Magazine."
In the image, the woman appeared standing on a big swing wearing yellow and white shoes, yellow pants with dark blue stripes on its sides, and a long-sleeved, beige top. Her beautiful hair and bright smile were the highlights of the picture.
As soon as the magazine's Instagram page uploaded the photo, followers took to the comment section to share their thoughts. Most of them agreed that she was "emanating" happiness and that she looked fabulous.
TALKING ABOUT HER HEALTH SCARE
Apart from that pictures, one of the most interesting aspects included in the November's issue of the magazine was a health scare situation that Winfrey experienced.
The media mogul revealed that she was scrambling some eggs for a Friday breakfast when she felt her neck sore. The area under her left side of her chin was tender and swollen, looking like "a goiter."
GOING TO THE DOCTOR
Winfrey quickly called an internist and booked an appointment for later that day. She couldn't stop thinking about negative outcomes, especially after searching on internet "swollen lymph gland causes."
Once she went to the doctor, the diagnosis was less severe: blocked salivary glands. She was told to go back home, drink plenty of water, and suck some lemons to stimulate the salivary ducts.
FOLLOWING THE DOCTOR'S INSTRUCTIONS
Winfrey sought for a second opinion, though, but she got the same diagnosis, so she started following the experts' instructions. Two days later, the swelling disappeared. Even though nothing bad happened, it made Winfrey stay conscious of "all the wonders" of the human body.
"Our bodies are amazing. And too often we are not grateful for their perfect functioning. As they say, you don't appreciate your health until you no longer have it," admitted the media mogul.
DIGGING INTO HER RELATIONSHIP WITH STEDMAN GRAHAM
Even though she didn't name him in the story, it is very likely that Stedman Graham, Winfrey's long-time partner, was with her supporting her throughout those frightening hours she thought her swelling was related to something more dangerous.
As Harper's Bazaar reported, they started dating in 1986 after meeting each other at a charity event in Chicago. A couple of years later, they fought false cheating rumors as a gossip columnist of the Chicago Sun-Times reported that Graham was found in bed with Winfrey's hairdresser.
CLEARING UP RUMORS
The columnist ended up apologizing for sharing the fake news. In the early 90s, the couple got engaged but called it off soon later. By 2013, the media mogul revealed that if she had married Graham, things wouldn't have lasted.
Last year, there was a rumor suggesting that she and Graham got married. However, she took to social media to point out that people had called her to congratulate her on her "wedding" but that it was not true.
At the moment, the couple is still together. Winfrey and Graham are the living proof that a relationship can last for a long time even if they don't walk down the aisle.
Please fill in your e-mail so we can share with you our top stories!