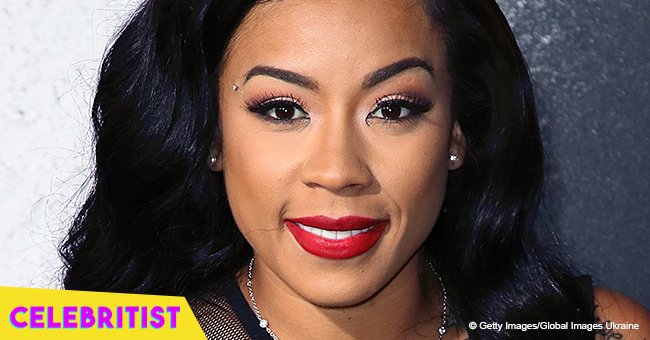 Keyshia Cole & her younger boyfriend celebrate their birthdays on luxurious vacation in videos
Singer and TV personality Keyshia Cole and her younger boyfriend, Niko Khale, took to Instagram to share videos celebrating their birthdays in a very lavish way.
In one of the posts, Khale, who turned 23 on October 17, appeared sitting on a boat showing off his tattooed body. Soon later, Cole, who turned 37 on October 15, walked to him and sat on his lap, sharing a beautiful time together.
For the caption, the woman wished her boyfriend a happy birthday and admitted that she was thankful for his presence. She added to being glad that they could spend their birthdays together.
WITH A SEA LION
Before that, Khale shared a picture showing him and Cole sitting next to a sea lion in what seemed to be an aquatic park. For the caption, the young rapper said that they were in "the islands" celebrating their love and life.
Last month, Khale took to his Instagram story to upload a short video showing Cole snoring. The rapper captioned the clip with "she lucky she sick," and tagged his girlfriend.
A "LOW BLOW"
While some people considered that it was a "low blow," others pointed out that it showed nothing but love as Khale was willing to accept and respect Cole's snoring.
The rapper shared some more pictures of Cole during their time together. One of them portrayed the singer wearing a two-piece white swim suit and long, braided locks.
BIRTHDAY GIRLFRIEND
For the caption, the rapper wrote: "It was neva right before cause it was neva this. I just wanna show u off. Happy Birthday my love [sic]," proving just how proud he is about their relationship.
Another video that Cole shared portrayed her in the water next to some pigs that were playing with her while someone, who's very likely to be Khale, was recording from the boat.
GETTING BACKLASH
Even though the singer is having a good time with her boyfriend, she was recently involved in a cyber-bullying after she uploaded a slideshow portraying her son, DJ, having a large meal.
In the photos, the table in front of the proud mother and her son was full of fried and greasy-looking dishes, something that didn't please her followers. In the caption, she revealed that they were eating at one of her places, Honey's Kettle Fried Chicken.
Several Instagram users took to the comment section to share their negative thoughts, saying that DJ was too fat and that eating all that greasy food was not good for him. Others pointed out that the boy should start a diet before developing diabetes or something worse.
A few of them also advised Keyshia to get DJ involved into sports, wishing that the slideshow was just part of an ad. So far, the woman has not said anything to defend her child.
Please fill in your e-mail so we can share with you our top stories!