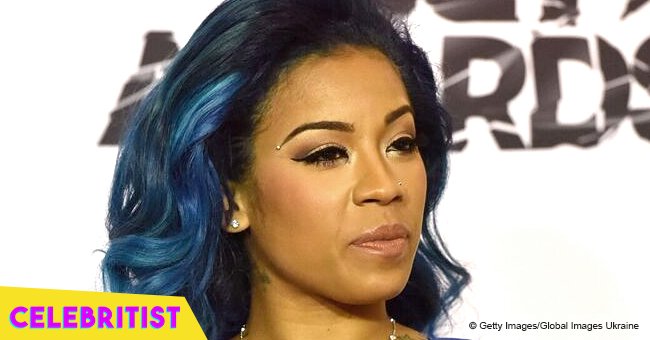 Keyshia Cole gets criticized for her son's excess weight after sharing new pics with him
Keyshia Cole, the TV personality known for "Keyshia Cole: All In," was slammed after uploading a slideshow to Instagram showing herself and her son, DJ, having a large meal.
The first pic showed the singer wearing a black shirt while side-hugging DJ, who wore a white shirt and a green and black plaid shirt on top. The table in front of them was full of fried dishes, something that didn't please her followers.
For the rest of the photos, both of them posed in different ways. One of them showed DJ trying to escape from a tight hug his mother was giving him, while another one portrayed them making a heart with their hands while smiling at the camera.
EATING AT THEIR FAVORITE PLACE
In the caption, the TV personality pointed out that she thought DJ was growing up too fast. She added that they were at one of her favorite places, Honey's Kettle Fried Chicken.
SHARING NEGATIVE COMMENTS
While most people considered that the photo showed how much they love each other, several Instagram users took to the comment section to share their negative thoughts.
They revealed that DJ was too fat and that eating all that greasy food was not good for him. Others pointed out that the boy should start a diet before developing diabetes or something worse.
ADVISING THE SINGER
A few of them also advised Keyshia to get DJ involved into sports, wishing that the slideshow was just part of an ad. So far, the woman has not said anything to defend her child.
DJ's father, Daniel Gibson, is not Keyshia's current partner as they have been divorced since 2017. Thankfully, the singer found the love again, and she has been dating 22-year-old singer Niko Khale for a while now.
DIGGING INTO KEYSHIA'S CURRENT RELATIONSHIP
About a month ago, the man uploaded a video on his Instagram showing him laying next to the almost-37-year-old singer. She was sleeping and snoring in a very funny way because she was sick.
He captioned the short clip writing "she lucky she sick." The Shade Room quickly reposted it on its Instagram account, and Keyshia took to the comment section to write: "Omg!!!! NOOOOOOOOOOOOOOOOOO OMG!!!!!!!! Why lord."
Thankfully, several people took things lightly and told the TV personality to relax as the video showed that Niko loved her a lot.
Please fill in your e-mail so we can share with you our top stories!