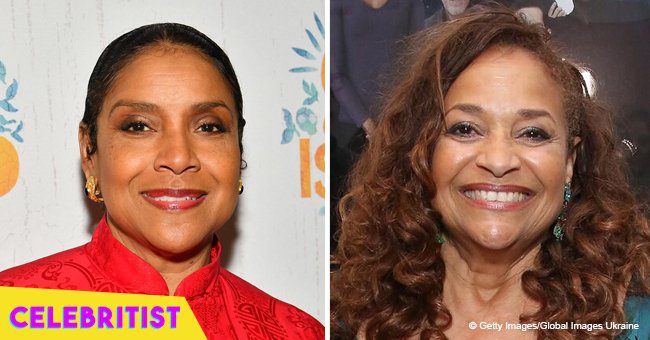 Debbie Allen and Phylicia Rashad look stunning in picture with their look-alike adult daughters
Debbie Allen and Phylicia Rashad are two of the most iconic sisters in the entertainment industry, and they passed down their beauty talent to their respective daughters. In a recent photo shared by Allen, the foursome looks stunning as they show off their uncanny resemblance.
The four women look gorgeous posing together in a photoshoot for the November edition of Town and Country magazine.
From left to right: Condola Rashad is rocking a black dress with roses from Michael Kors, as she puts her hands on Phylicia's shoulders. The actress looks regal in a black blouse with white details and silver hoop earrings. Vivian Nixon looks gorgeous in a blue dress with see-through details on the sleeve, as she hugs Debbie Allen, who's rocking a Giorgio Armani black dress.
Like their famous mothers, Condola and Vivian are also talented singers, actresses, and dancers.
SECOND GENERATION STARS
Condola is a four-time Tony-nominated actress who has appeared in Broadway plays like "Saint Joan" and "A Doll's House, Part 2," and she also stars in the TV series "Billions." Vivian, on the other hand, is also a Broadway star and talented dancer, she has appeared in several shoes, including "Memphis."
The girls grew up surrounded by the arts, and they confessed that they love by performing was not instilled at all but part of natural development in their lives.
"We were included in whatever they were doing, and I aspired to that level of professionalism and love for what they do," said Condola, referring to the experience of immersion they had growing up with superstar moms. "I was in the bassinet under the piano during Fame," Vivian added.
Is clear that Vivian and Condola will keep the legacy of the family alive for more years to come, and their mothers couldn't be prouder.
However, the feeling of pride goes both ways, as Condola and Vivian are aware of their moms' influential careers, not only in their lives but for many other Hollywood stars that see in Allen and Rashad two exemplary women.
"A TALE OF TWO SISTERS."
Between the two of them, Allen and Rashad have won several Emmy, Tony and Golden Globe Awards. They have been an essential part of Hollywood for four decades, and to this day, they're still adding more accomplishments and honors to their careers while contributing to the growth of the entertainment industry.
Allen was the first African American woman to win a Golden Globe for best actress in a television comedy or musical, and Rashad had the same honor but in the Best Actress category in the Tony Awards.
Just two months ago, the siblings were honored by the Wallis Annenberg Center for the Performing Arts with a lavish party titled "A Tale of Two Sisters," in which stars like Gladys Knight, Halle Berry, Alfre Woodard, and Shonda Rhimes took the stage to recognize their efforts in spreading love for the arts.
"This tale of two sisters after tonight, I have to say is still in the making," said Allen on stage. And continued:
"It is still in the making. It has been such an inspiration to look back, but as we look back, we've always learned we look forward. So we know there's a lot of work yet to be done. There's a lot of inspiration, but there's a lot of work."
At 68 and 70, Debbie and Phylicia continue working tirelessly.
Please fill in your e-mail so we can share with you our top stories!