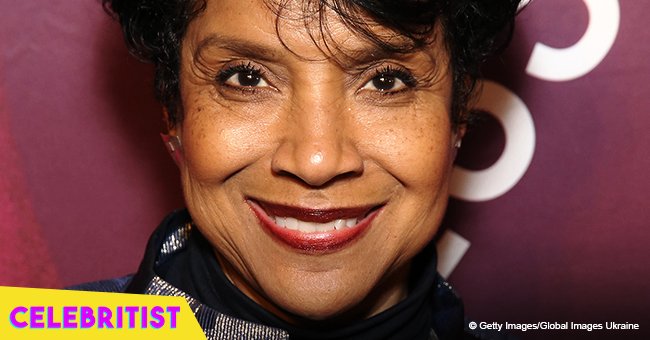 Phylicia Rashad's only daughter turns heads in red off-shoulder dress in rare photo with father
Condola Rashad looks stunning rocking a red gown in a recent photo with her father, Ahmad Rashad. The young woman inherited not only her mother's good looks but also her talent.
Phylicia Rashad and Ahmad Rashad got married back in 1985 after the former NFL player made a public proposal to the actress in a commercial break from the pregame show of NBC's broadcast of the Thanksgiving Day football game.
It was the third marriage for both stars, and after a year, they welcome their first and only daughter, Condola. They divorced in 2001, after being together for sixteen years.
The now 31-years-old beauty decided to follow her mother's steps into the entertainment industry, appearing in series like "Billions," "Smash," "The Good Wife," and "Law & Order: Criminal Intent," and the film "Steel Magnolias," where she shared the screen with her mom and Queen Latifah.
She's better known for her on-stage work, as she has earned several important roles in Broadway. Her interpretation of Juliet in "Rome & Juliet" was a big hit, and she has also worked on plays like "Stick Fly," "The Trip to Bountiful," "A Doll's House, Part 2," and most recently "Saint Joan," where she gave life to Joan of Arc.
The Tony Award-nominated actress got engaged to long-time boyfriend and fellow actor Sebastian Vallentin Stenhøj, last year. He surprised Condola with a ring while on a vacation trip to Mexico, and she gladly accepted.
Last June, Rashad attended the Tony Awards rocking an off the shoulder red gown that enhanced her curves, and before stepping into the red carpet, she posed with her handsome father outside the theater where the Awards were held.
Ahmad kept it classy wearing a black suit with a black and white plaid t-shirt and a black satin tie. The Hall of Famer put an arm around his daughter as a subtle smile took over his face showing how proud he's of her accomplishments.
Condola shared the photo on her Instagram just in time for Father's Day, as she wrote:
"My dear dad, who has ALWAYS been there. I'm so grateful. Happy Father's day people!"
Fans immediately took to her comment section to share their thought on the photo.
Instagram user @glammatee44 wrote:
"Aww... So sweet! I remembered watching live your Dad proposed to your beautiful Mom,"
@markkclark added:
"You look wonderful @dolabunny, and your Dad looks like he could still go deep!"
And @16barspublishing seemed a bit out of the loop by saying:
"So I'm guessing Phylicia Rashad is your mother, OMG I'm completely blown away right now, now that is your twin wow wow wow, love the show btw I watched the whole first season in one day."
These days, Ahmad is enjoying the married life for the fifth time with a woman that is almost his daughter's age. He married Ana Luz Rodriguez-Paz, a psychologist, in 2016.
Condola will be appearing on the fourth season of "Billions" in the next few months.
Please fill in your e-mail so we can share with you our top stories!