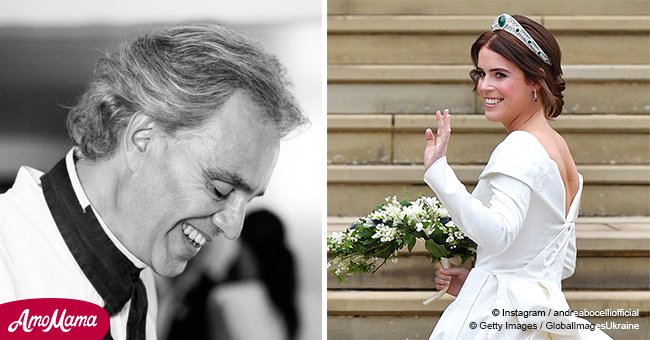 Andrea Bocelli opens up about how he got invited to sing at the royal wedding
Last Friday, Italian tenor Andrea Bocelli sang "Ave Maria" and "Panis Angelicus" at Princess Eugenie's wedding. He was backed by the Royal Philharmonic Orchestra.
Four days after the wedding, the singer had an interview at a hotel in Milan, Italy. There he revealed that he was quite close to one Royal.
Andrea Bocelli, 60, had this to say about how he got invited to sing at Princess Eugenie's wedding:
"Sarah Ferguson has been a very good friend of mine for many years now. She invited me [to sing] for this reason: because we are very close friends. We met a long time ago in a TV studio. I heard somebody knocking on my door, I opened it, and it was her — and she was giving me her book. I think it was a sort of biography of her life."
For more on this story go to our Twitter account @amomama_usa. The musician has been blind since the age of 12 and has 90 million record sales.
Bocelli also has a close relationship with Ferguson and her family, "but especially with her." The star has had the privilege of seeing Eugenie and her sister Beatrice growing up even though it was occasional.
However, Ferguson isn't the only Royal that Bocelli is close to. He's also close to the Queen as the two have a great love for horses.
Bocelli looks after stables in Tuscany, near his primary residence. His home is a converted hotel in the seaside resort of Forte dei Marmi.
The walls of the lounge are covered with black and white photographs of the musician riding and petting his horses. He shared:
"I went to Windsor and saw the Queen's horses."
Bocelli revealed that he hasn't had the pleasure of riding the Queen's horses "but she promised." He shared that the monarch promised that the next time he's in England and less busy, they would do just that.
Although the star is a famed singer he had one thing to admit:
"I was a little bit in trouble with my voice. I was very tired. I tried to warm my voice, I did my best, but in any case I had some cough and phlegm. But, yes, I was nervous."
In May 2016, Bocelli had the honor of singing at the Queen's 90th birthday celebration. There he sang "Nelle Tue Mani."
Please fill in your e-mail so we can share with you our top stories!