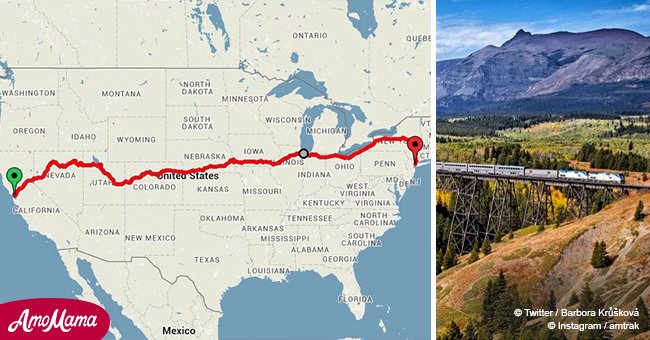 Anyone can travel across the whole country by train for less than $300
You can travel from coast to coast by train for as low as $300, according to a budget plan devised by a travel blogger named Derek Low.
Low laid out a pocket-friendly travel adventure with a 3,397-mile train adventure lasting for four days. Although it doesn't have any stopovers, you still would be able to get a glimpse of the beautiful landmarks of the United States.
"The U.S. still has an excellent rail network for visitors that'll take you to almost all the towns and cities a visitor would want to see," said Low.
Going into full detail, Low explained that the journey will start from San Francisco and will end in New York. Throughout the trip, you will be able to pass through 11 states.
Follow us on Twitter at AmoMama USA for more details and updates.
Low's budget plan will cover only regular coach setting. For your meals, the onboard café of the train will be very convenient for you.
Beginning the journey in San Francisco en route to Chicago, California Zephyr tickets will cost you about $137.
Transferring to the Lakeshore Limited train, you would need an additional $87. The extended trip will let you pass through the Midwest and Pennsylvania.
Also, you would get the chance to glance at stellar views like Lake Michigan and the Finger Lakes region in upstate New York.
The four-day trip will end at Penn Station, which is right at the heart of Manhattan.
All in all, your once-in-a-lifetime adventure will cost you less than $300.
If you wish to do more sightseeing, you can also take detours and make stops in Cleveland and Boston to make your trip even more worthwhile.
Planning out a trip can be stressful and Low offers to book the entire adventure for you for only $49, which is a great deal in itself.
Not only will you rid yourself of a potential headache that comes with intricate planning, but you would also be able to save more time.
Traveling by plane may be more comfortable, but it's a lot more expensive. If you want your trip to be less costly, the train route is the perfect one for you.
As for the things you should bring with you on your travels, it is still advisable to carry only the essentials.
The first step is choosing the right luggage. Next, you should organize your stuff and make sure all the basic things you need are accounted for. Also, make sure to bring your travel documents and of course, money.
Please fill in your e-mail so we can share with you our top stories!