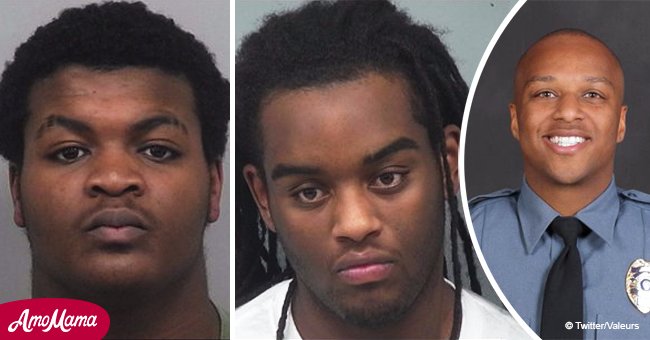 Death of police officer leads to major manhunt in Georgia
A major manhunt is currently underway after a police officer was killed in the line of duty after responding to a suspicious activity near a school.
The incident took place on Saturday afternoon, October 20, 2018, in Gwinnett County, Georgia, just outside of Snellville.
The Gwinnett County Police Department is currently on the lookout for three suspects since one of them has already been captured.
Follow us on our Twitter account @amomama_usa to learn more.
A SURPRISE ATTACK
Officials responded to a 911 call in the Crumps Landing Road and White Road area over a 'suspicious vehicle' that was parked near Shiloh Middle School.
Two police officers rushed to the scene in separate cars, one of them being 30-year-old Antwan Toney. As soon as they pulled up, bullets started flying towards them.
THERE WAS NOTHING DOCTORS COULD'VE DONE
Officer Toney ended being hit, as the bullet completely missed his vest. While still being fired at, the other officer, who is yet to be identified, managed to pull his colleague out of the line of fire.
An ambulance was called as the criminals escaped in their car, only to crash about a mile away. Toney was in critical condition and was transported to the Gwinnett Medical Center in Lawrenceville, where he was later pronounced dead.
ONE DOWN, THREE TO GO
According to several witnesses, the four suspects jumped out of the car and continued to flee on foot. All the surrounding neighborhoods were put on lockdown in order to locate the gunmen.
So far, police managed to capture Isaiah Pretlow, who was described by witnesses as a 6-foot tall black male with long dreadlocks.
A second suspect has been identified as Tafahree Maynard, who remains at large. Police are now looking for any information that may lead to the suspects' location.
ANOTHER LIFE LOST
But Officer Toney wasn't the only law enforcement figure to lose his life in recent times; Sr. Cpl. Earl "Jamie" Givens, from Dallas, was killed after being run over by a Kia Sportage during a funeral escort for a fellow police officer.
Givens was riding ahead of the funeral procession, flashing his motorcycle's lights to block traffic, when 25-year-old Adrian Breedlove crashed into him. Breedlove was charged with intoxicated manslaughter and unlawfully carrying a weapon.
Please fill in your e-mail so we can share with you our top stories!