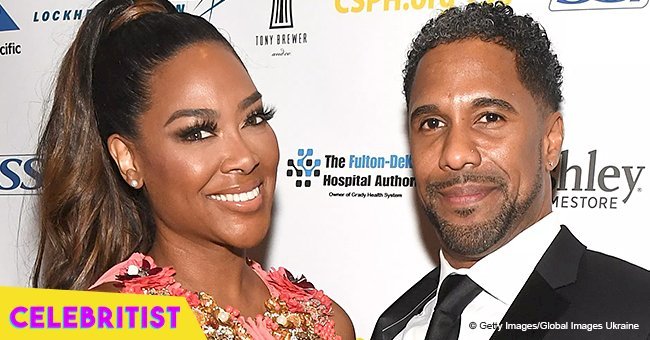 Kenya Moore shines in regal gold gown during her fairytale-themed baby shower

Kenya Moore went all out for her first baby shower. Apart from dressing like a queen, she sat on a golden throne while entertaining her guests in her fairy-tale themed party.
Kenya Moore's life took an enchanted turn when she celebrated her baby's coming in a fairytale-themed shower.
WHAT SHE WORE
The former "Real Housewives of Atlanta" star stunned on Saturday at the Historic Academy of Medicine where the royal fete came to life. Ethereally dressed in a gold velvet dress and a beaded headdress, Kenya sashayed into the room wearing a white cape made of feathers.
WHAT HER GUESTS WORE
The lavish party required guests "by royal decree" to come in their most imaginative fairy tale costumes. Kenya described the event in her invitations as a "Met Gala with a fairy tale theme." Her former reality show co-stars Cynthia Bailey, Kandi Burruss, and Porsha Williams obliged. Cynthia came as a golden warrior queen while Kandi arrived as an ice queen. Porsha showed off her growing baby bump in a high-cut bejeweled green dress. Nene Leakes was not in attendance but gushed about how amazing everyone looked on Instagram.
WHAT SHE PREPARED
Kenya went all out with the venue which was made to look like an enchanted forest. She and her tuxedo-clad husband, Marc Daly treated their guests to a sumptuous dinner of chicken breast stuffed with mushrooms, eggplant cannelloni with spinach, and zucchini and yellow squash pappardelle. There was also cake, key lime pie shots, and bourbon pecan balls dipped in chocolate along with entertainment.
WHAT SHE'S BEEN WAITING FOR
The former Miss USA took her place at the center of the court and sat on a gold throne fit for a queen. It was clear from photos from the celebration that Kenya put a lot of thought and effort into the party. After all, this is her first baby shower and she waited a long while for this.
Kenya admitted conceiving through in vitro fertilization due to her age. She's 47 years old and didn't think she'd still get pregnant. But now that she is Kenya is just happy to be able to do everything she's dreamed of. This includes the baby shower she envisioned. She thanked her guests for allowing her to indulge in her fantasies and expressed her gratitude for their participation.
WHAT IRKED HER
Days before the event, it was evident Kenya wanted things to be perfect. She shared a series of Instagram stories throwing shade at those who didn't bother to respond to her invitation. She also reminded her invitees who won't bother to show up to her "monumental life changing event" to still send a gift as the rules of etiquette suggest.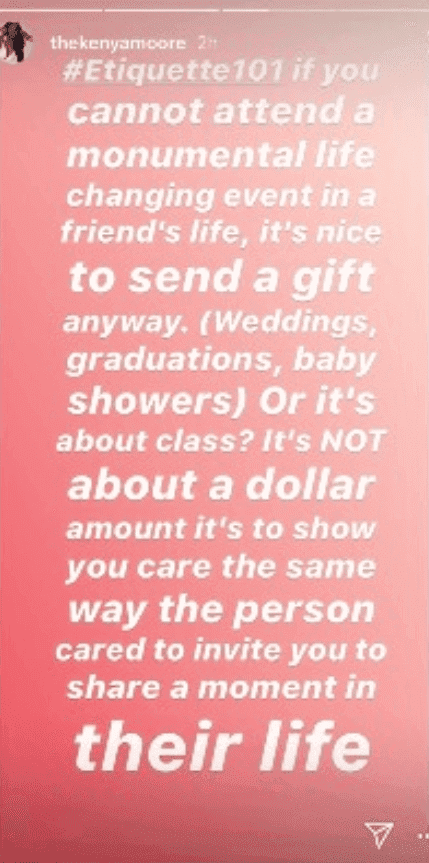 Source: Instagram / Kenya Moore
WHAT SHE PLANS TO NAME HER BABY
It will probably be a few weeks before Kenya and Marc celebrate the milestone they've been waiting for. Despite not knowing their baby's gender yet, the couple already has a name in mind. Kenya told E! News the name came up at a family function. It was her cousin who mentioned it and she and her husband were both drawn to it. The name is unisex so it wouldn't matter if they were having a boy or a girl. But Kenya says it has a significance to the couple which is why they chose it.
Please fill in your e-mail so we can share with you our top stories!