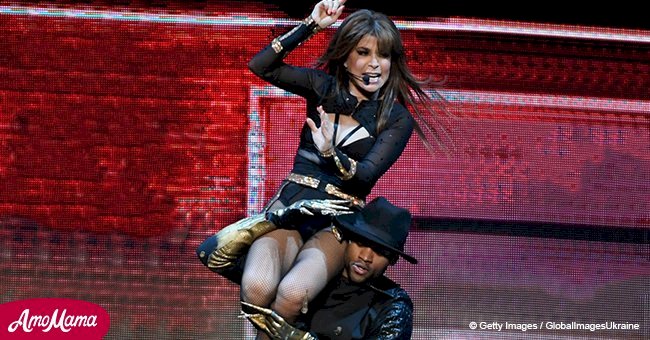 Paula Abdul's concert accident goes viral
During a concert in Mississippi, Paula Abdul fell off the stage during her 'Straight Up Paula! 2018 Tour.'
The tour has mostly gone on without a hitch until Friday night when she had to cancel her performance in Louisiana and wrote on Instagram:
"I am devastated that tonight's show cannot take place due to an unexpected venue production issue that we learned about once we arrived — as you know I've been working tirelessly to make this show a memorable experience for you all."
The bad luck continued on Saturday night during her show in Biloxi, Mississippi. The former American Idol judge was performing her 1991 hit single, 'The Promise of a New Day' when she unexpectedly fell off the stage.
Read more on our Twitter account @amomama_usa.
She walked to the front of the stage, encouraging concertgoers to sing with when her left foot slipped off the edge of the stage, causing her to fall.
The audience could be heard responding in shock and concern, however, the 56-year-old Paula stood up and continued the rest of the concert like a professional, not showing whether she got injured or not.
In July 2018 Paula Abdul excitedly talked about her 2018 tour, her first solo tour in 25 years and said:
"It's been decades since I've done my own tour, um, but I had a great taste of what it's like being on the road last summer with the New Kids on the Block and Boyz II Men and had a great time. It was just a really warm welcome, and it reminded me of how it felt like when I was on the road constantly years and years ago."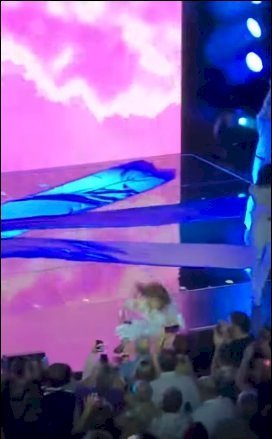 Source: YouTube/ Lolli 312
She expects her tour to be very different from sets she had performed on while touring with other groups where she had to cram many songs into a short period of time. It will also be a big change for Paula, but she knows her core needs while on the tour and added:
"A Chihuahua, good healthy snacks, definitely cable. There has to be DirecTV or Apple TV, and Whole Foods runs."Paula Abdul's tour will take part over a seven-week, 26-city tour, starting in October.
While on a tour, another singer, songwriter had an unexpected fall during a performance. Before Teyana Taylor left while on the tour with Jeremih as she claimed to have been ill-treated Teyana also took a tumble off the stage during a performance at the PlayStation Theater in New York City.
Coincidentally, it was also her left foot that slipped and caused her to take a bad fall. Thankfully, she had no serious injuries and also continued her performance, taking the fall in her stride.
Please fill in your e-mail so we can share with you our top stories!