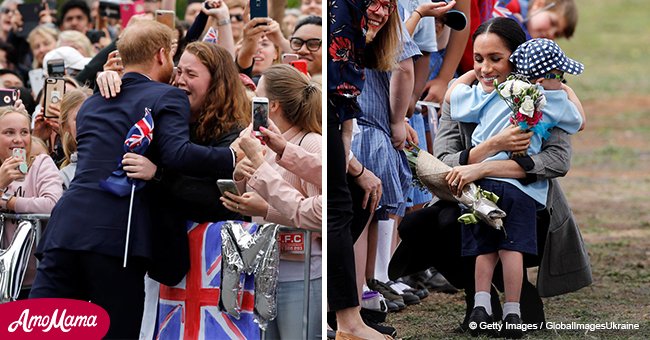 Protocol busters Meghan and Harry: all the times they broke the rules during this trip

The Duke and the Duchess of Sussex once again break the rules of Royal Protocol on their Australian Tour.
The Royal Family is hedged around by protocols and traditions that have been in place for centuries, but the Duke and the Duchess of Sussex have become famous for disregarding the rules, and acting spontaneously, reported Mirror.com on October 19, 2018.
The Royal couple is on a tour of Australia, Fiji, the Kingdom of Tonga and New Zealand, and have taken the opportunity to let their hair down a little, since they are far from the scrutiny of Her Majesty, Queen Elizabeth II whom they are representing.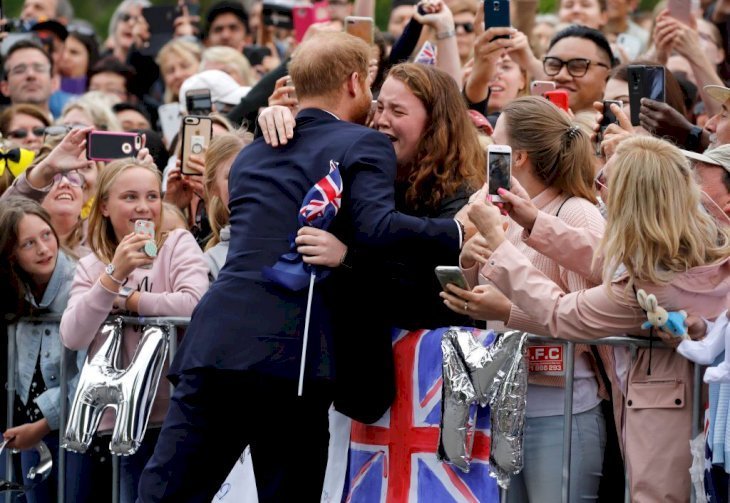 Source: Getty Images
HUGGING A FAN IN THE CROWD
While visiting the Royal Botanic Gardens in Melbourne, Prince Harry noticed a 19-year-old woman in the crowd holding a sign which proclaimed:
"Been here since 4 am, loved you since I was eight."
India Brown, a university student, was thrilled when Harry stopped to speak to her and started crying. She asked the Duke of Sussex for a hug, and he put his arms around her. This is a major break in protocol since Royals are not supposed to touch the public.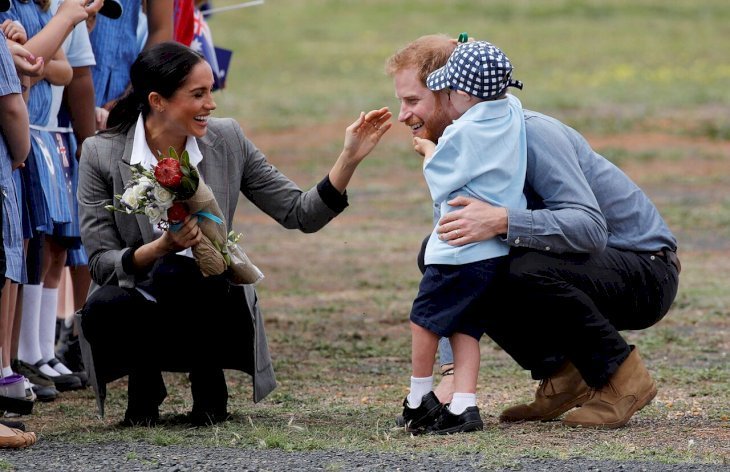 Source: Getty Images
CUDDLING A TODDLER WITH DOWNS SYNDROME
In Dubbo, the Duke and Duchess of Sussex both ignored protocol to cuddle a five-year-old with Downs Syndrome who ran towards them out of the crowds. Luke Vincent hugged the Duchess and playfully rubbed at the prince's famous red beard.
Later, the Duke and Duchess happily hugged several flag-waving children welcoming them at the town's airport.
TAKING A SELFIE WITH A MEGHAN LOOK-ALIKE
One thing that is absolutely forbidden, of course, is to take selfies with the public, but that rule was also broken in Sydney when Harry spotted a little girl in the crowd who was the Duchess' mini-me. He called Meghan over to meet nine-year-old Sethunya Gibbons and then took a photo of the two together.
HOLDING HANDS IN PUBLIC
The couple, who married on May 19, 2018, and are now expecting their first child, have always been very affectionate in public, and were caught holding hands several times.
The Duke of Sussex spoke about his personal feelings with regards to the Duchess' pregnancy openly during his speech at the Invictus Games opening ceremony in Sydney.
"I have been so proud to be able to introduce my wife to you and we have been so happy to be able to celebrate the personal joy of our newest addition with you all."
It is very unusual for the Royal Family to speak of personal issues, and usually, communiqués are emitted by Kensington Palace
The couple looked very much in love, and the Duchess dazzled in a lovely navy blue Stella McCartney dress and jacket, accessorized with elegant ivory heels and a simple clutch bag.
The Royal couple has been welcomed enthusiastically by Australians, exuding the same warmth that made Harry's mother Princess Diana so beloved, and renewing the Royal Family's bond with the people of the Commonwealth.
Please fill in your e-mail so we can share with you our top stories!