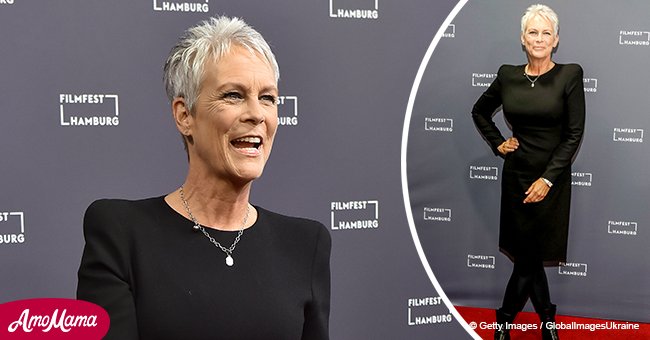 Here's the touching reason why Jamie Lee Curtis doesn't dye her hair or wear heels
Jamie Lee Curtis opens up about her addictions and the long road to recovery.
Jamie Lee Curtis has been in the limelight all her life. First as the daughter of the iconic Tony Curtis and the legendary Janet Leigh, then as a star in her own right.
But Curtis, successful and beautiful, has been hiding a secret for many years, reported NY Daily News.
The 59-year-old actress became addicted to painkillers after cosmetic surgery on her eyes when she was 35 and spent years hiding her dependence from her family and friends.
STEALING PILLS FROM HER SISTER WAS A LOW POINT
Curtis realized she was in a bad place when she found herself pilfering painkillers from her sister who was at her home, recovering from an accident that had left her with broken bones.
Curtis confessed that she supplemented her pill use by drinking heavily, a habit she carefully concealed from her husband Christopher Guest.
FIGHTING THE YOUTH AND BEAUTY TYRANNY
Curtis went into treatment 9 years ago, when she realized her addiction was damaging her daughter Anna and has since then been working as a volunteer on anti-drug campaigns.
Curtis attributes her fall into addiction on the constant pressure in Hollywood to stay 'young and glamorous' and in response, she has let her hair go grey and stopped wearing high heels.
CURTIS BREAKS THE NEWS ON COSMETIC SURGERY
Curtis underwent surgery to 'stay young' but all she gained was an addiction from the pills the doctors prescribed for the painful interventions she subjected herself to. She admitted that 'none of it works'
"I've done it all. I've had a little plastic surgery. I've had a little lipo. I've had a little Botox. And you know what? None of it works. None of it."
TAKING CHARGE OF HER LIFE, TAKING PRIDE IN HER APPEARANCE
After decades of bowing down to Hollywood's relentless pressure and having surgery to 'correct' the aging process, Curtis has come to terms with her self and her looks. She owns her age and loves her silver hair.
Read more on our Twitter account @amomama_usa.
OWNING UP TO HER PROBLEM AND HELPING OTHERS
For Curtis, the long and painful road to recovery led her to open up to her family, begging for their forgiveness and their help.
The first step, she revealed, was admitting the truth to herself:
"I am a junkie. That's who I am. I am an example that acknowledging your worst secret can save your life."
Her realization that she had to stop came when she failed to show up for her son Thomas, then in his teens, for something that was very important to him.
She realized that unless she could regain her sobriety, her relationship with the people she loved the most would be destroyed.
Nearly ten years later, Jamie Lee Curtis is back on top, with a new 'Halloween' movie about to be released and a sitcom project for CBS, and she is doing it on her own terms.
With her mop of silver hair, Curtis is walking the red carpets in flat shoes - but always with that same dazzling smile.
Please fill in your e-mail so we can share with you our top stories!