Mother outraged by video of her son with autism being dragged through school
A mother is devastated after seeing the marks that a teacher caused to her son while she drag him through the school's floor.
Jo Grayson, Tatcher's mother, an autistic child who is in sixth grade, received a text message from her son's teacher, in which she told her that she had had to lift her son off the floor, since he did not I wanted to do on his own.
However, when the boy came home, his mother discovered that he had scratches and bruises all over his body.
After seeing that, she asked for the assistance of a lawyer and reviewed the security filming of Tates Creek Middle School in Lexington, Kentucky, where Tatcher attends.
In the footage, she saw how the teacher and the school nurse dragged the child over the ground, along with his guide dog.
The images has scandalized many parents and the teacher was fired from the institution.
The mother has a blog in which she says that the school district is to blame, since she considers "if there were better training for teachers and security cameras in all the classrooms of the schools, this would not have happened."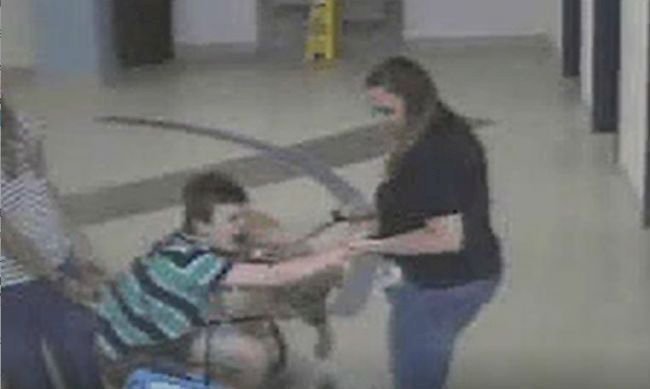 "My son could have been unharmed if the teacher had had better training on what to do in a case like this," she said. "I just do not understand how anyone can do this to a child, much less a person with disabilities," Grayson told CNN.
"I want the school district to take action and not just install cameras in every room in every school, but also train its staff to know how to handle children with disabilities, or difficult situations with children like Thatcher."
In the same article, Greyson affirms that "it is not the first time that my son suffers aggressions". She also explains that her son suffers a practically non-verbal autism, so it is very difficult to communicate if he feels pain or discomfort.
In this way, she made the case public to raise awareness of the need to train the teaching staff to treat children who have special needs. This kind of stories must be told in order to avoid them to happening again.
This story reminds us of a video of an elementary school teacher seizing the microphone at Thanksgiving play as a little boy with autism was about to deliver his final line caused outrage online and has put the teacher under fire.
The footage shows the boy with autism waiting in line to deliver his last line, but when it's finally his turn a teacher snatches the microphone away from the boy leaving him visibly frustrated.