O.J. Simpson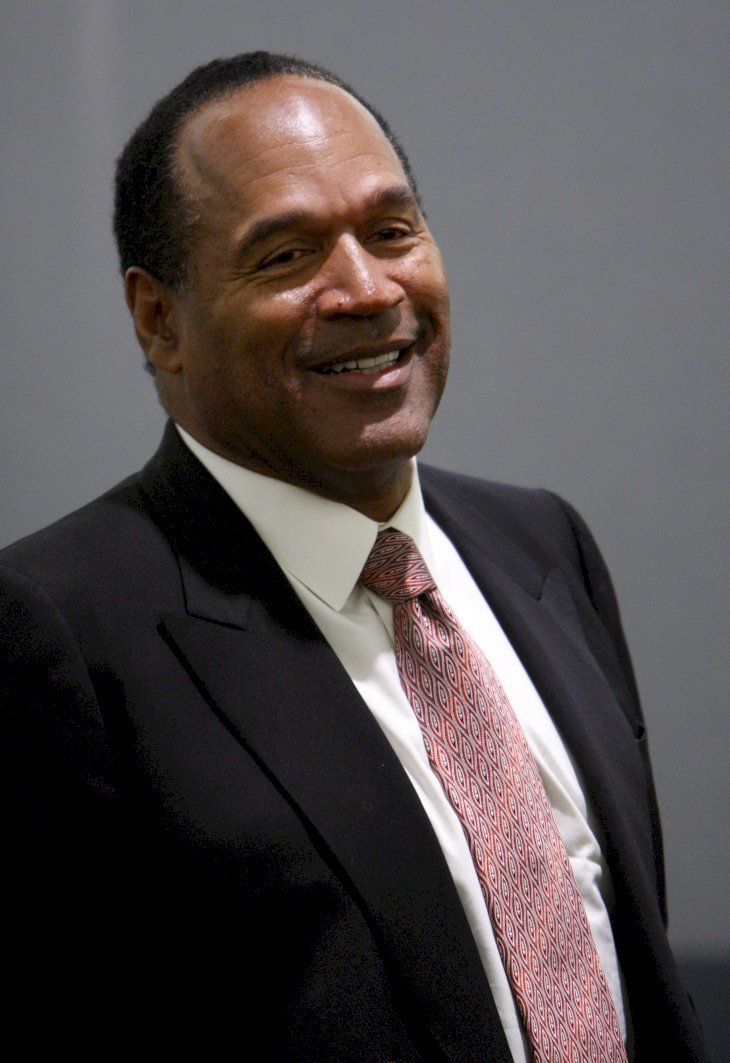 Getty Images
Content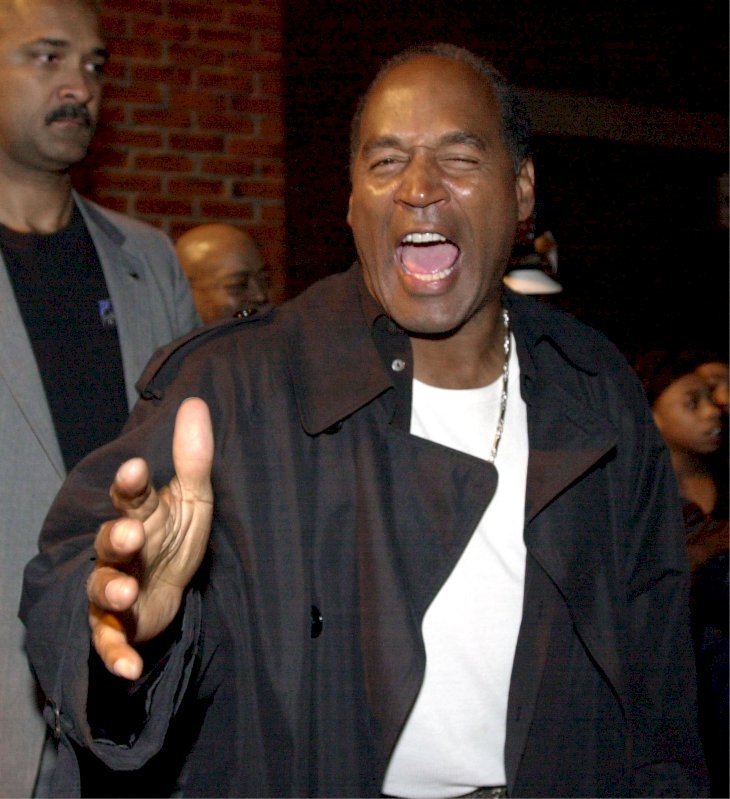 Getty Images
Orenthal James "O. J." Simpson was a former running back, broadcaster, actor, and advertising spokesman. He got famous for playing football for the University of Southern California (USC), and then after college, professionally as a running back in the NFL for 11 seasons.
In 1994, OJ Simpson was charged with the murders of his ex-wife, Nicole Brown Simpson, and her friend, Ron Goldman. A jury later acquited him after enduring a lengthy and internationally publicized trial. The families of the victims then filed a civil suit against Simpson, which they were eventually awarded.
In 2007, Simpson was convicted and sentenced to 33 years imprisonment, with a minimum of nine years without parole for robbery and kidnapping.
OJ Simpson was born in San Francisco, California, where he grew up. His parents are Eunice Durden and Jimmy Lee Simpson, a well-known drag queen in the San Francisco Bay Area.
Simpson has one brother, Melvin Leon Simpson, two sisters, one living; Shirley Simpson-Baker, and one deceased; Carmelita Simpson-Durio. When he was a child, Simpson developed rickets and had to wear braces on his legs until he was five years old. As a result, he had a bowlegged stance when he was older. His mother raised him after his parents separated in 1952.
In his early teenage years, Simpson joined a street gang called the Persian Warriors and served time at the San Francisco Youth Guidance Center after being arrested.
After his third arrest, he met Willie Mays, who encouraged him to reform and avoid trouble. OJ Simpson attended Galileo High School in San Francisco, where he began playing football for the school team.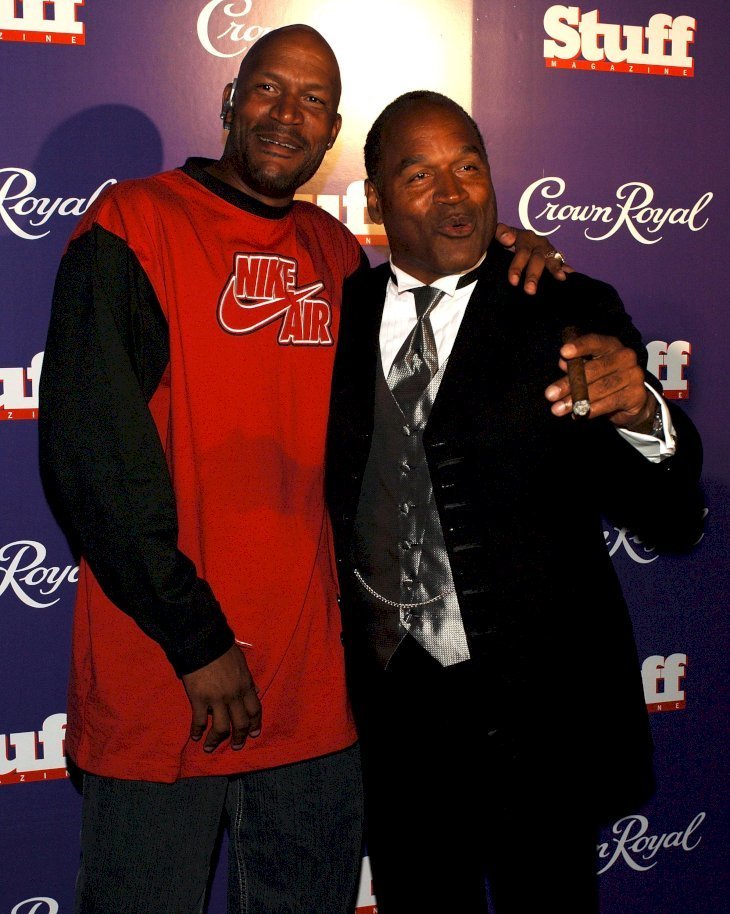 Getty Images
Simpson went on to play college and professional football after high school. He was placed 2nd on the NFL's all-time rushing list at the time of his retirement and currently stands at number 21.
In 1973, Simpson was named NFL Player of the Year. He played in six Pro Bowls and was the only player in NFL history to rush for over 2,000 yards in a 14-game season. Simpson was the only player to rush for over 200 yards in six different games throughout his career.
He was inducted into the Pro Football Hall of Fame in his first year of eligibility in 1985.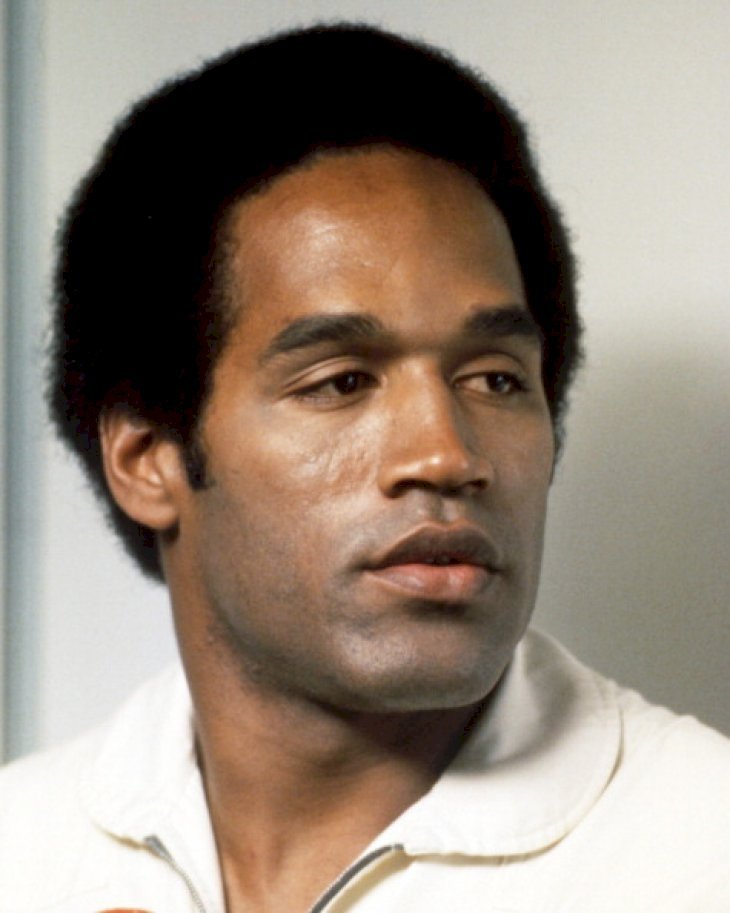 Getty Images
Simpson was nicknamed "Juice" as a play on the abbreviation of his name, which is the same as orange juice.
While still playing NFL football, Simpson started working towards a film career. He has appeared in the mini-series, "Roots," motion pictures, "The Klansman," "The Towering Inferno," "The Cassandra Crossing," and "Capricorn One." Then in 1979, he ventured into film production and started the production company, Orenthal Productions.
Simpson then began working as a commentator for Monday Night Football and The NFL on NBC, as well as making appearances in the audience of Saturday Night Live during its second season, and hosting an episode of the show in season three.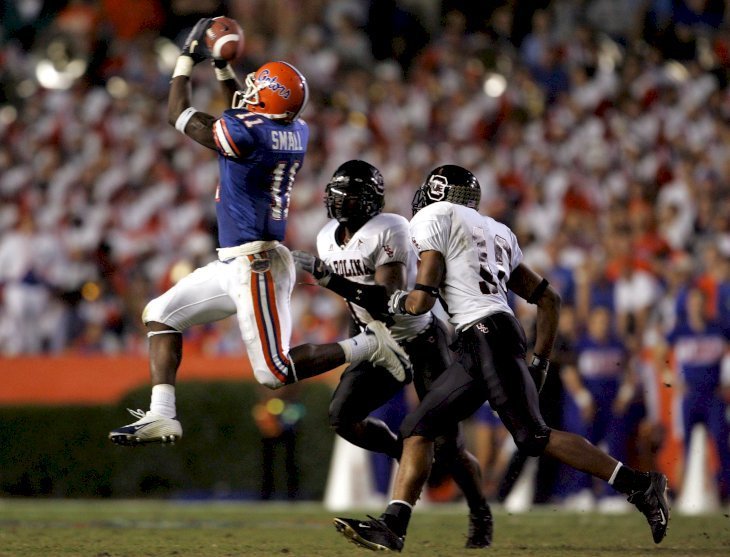 Getty Images
Simpson married his first wife, Marguerite L. Whitley when he was only 19 years old. They married on June 24, 1967, and had three children together, Arnell, Jason, and Aaren.
Aaren Lashone Simpson was born on September 24, 1977. Unfortunately, her life was cut short when she drowned at the age of two in the family's swimming pool in August 1979. In the same year, Simpson and Whitley separated.
Two years before his marriage ended, Simpson met Nicole Brown at the nightclub where she worked. They began dating in 1977, even though Simpson was still married at the time.
Nicole Brown and Simpson tied the knot on February 2, 1985. Simpson had retired from professional football five years before they married. Together they had two children, Sydney Brooke Simpson, and Justin Ryan Simpson.
They were married for seven years. In that time, Simpson took a no contest plea to spousal abuse in 1989. In February 1992, Brown filed for divorce, stating irreconcilable differences.
After the divorce in 1993, they tried to reconcile but never did.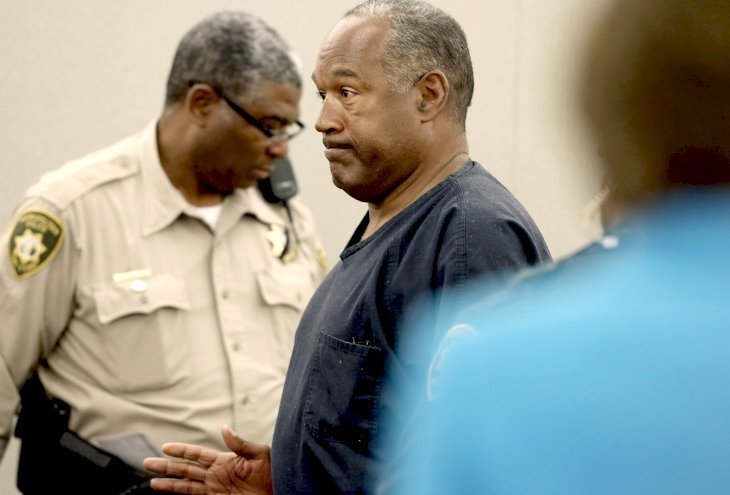 Getty Images/ Global Images Ukraine
Simpson has had many run-ins with the law. Most notably the murder trials for Nichole Brown Simpson and Ron Goldman, the wrongful death civil trial, and the Las Vegas robbery.
Nichole Brown Simpson and Ron Goldman Trial
On June 12, 1994, Nicole Brown Simpson and Ron Goldman were found stabbed to death in Los Angeles outside Nicole's condominium.
OJ Simpson became a person of interest in their murders.
On June 17, OJ Simpson was arrested after a low-speed pursuit in a white 1993 Ford Bronco SUV driven by Al Cowlings.
The following trial became the most widely publicized event in American history.
The trial happened on October 3, 1995, and the jury found Simpson "not guilty" of the murders.
After Simpson's acquittal, there were no further leads or arrests made on the case.
Simpson's defense team had included Johnnie Cochran, Robert Kardashian, Robert Shapiro, and F. Lee Bailey.
Wrongful death civil trial
After the verdict of the initial trial, Ron Goldman's family filed a civil lawsuit against Simpson, and the new trial commenced on October 23, 1996.
Daniel Petrocelli represented the plaintiff Fred Goldman, and Robert Baker represented Simpson.
Superior Court Judge Hiroshi Fujisaki barred television and still cameras, radio equipment, and courtroom sketch artists from the courtroom.
On February 5, 1997, a civil jury found Simpson liable for the wrongful death of, and battery of, Goldman and Brown.
Simpson was ordered to pay $33,5 million in damages.
In 1997, Simpson was evicted from the estate in which he had lived for 20 years after defaulting on the mortgage.
There were two restraining orders granted against him, one to ensure that he did not spend the money he made from selling his side of the story, and the second to ensure he did not overspend. The aim of both was to make sure he would pay the Goldmans the money ordered in the first court documents.
On March 13, 2007, a judge ruled again that Simpson would be barred from receiving any further compensation from the defunct book deal and TV interview.
This was followed by a ruling in August 2007, by a Florida bankruptcy court, that awarded the rights to the book to the Goldman family, to partially satisfy the unpaid civil judgment.
On the night of September 13, 2007, a group of men led by Simpson broke into a hotel room and took sports memorabilia at gunpoint.
Simpson was questioned by police and admitted to taking the items, claiming they had been stolen from him. He denied breaking into the hotel room and denied that he or anyone else was armed at the time.
He was released after questioning.
Two days later, Simpson was arrested and held without bail.
Simpson and three other men were charged with multiple felony counts, including criminal conspiracy, kidnapping, assault, robbery, and using a deadly weapon.
Bail was eventually set at $125 thousand, with stipulations that Simpson would have no contact with his co-defendants. He also had to surrender his passport.
Simpson did not enter a plea.
At the end of October 2007, all the other co-defendants had taken plea-bargains with the prosecution in the Clark County, Nevada, court case.
Simpson was charged with 12 counts and pleaded not guilty on November 29.
The trial date was moved from April to September 8, 2008.
In January 2008, Simpson was arrested in Florida and flown to Las Vegas. He was incarcerated at the county jail for violating the terms of his bail as he had tried to contact Clarence Stewart, one of the co-defendants in the trial.
After a hearing on January 16, 2008, Simpson's bail was raised to $250 thousand, and he was ordered to remain in county jail until 15 percent of the bond could be paid in cash.
Simpson's bail was posted by that evening, and he returned to Miami the next day.
He was found guilty of all charges on October 3, 2008.
By October 10, 2008, Simpson's defense team filed for a new trial (trial de novo). They claimed judicial errors and insufficient evidence.
At the time, Simpson was facing the possibility of a life sentence with parole on the kidnapping charge, and mandatory prison time for armed robbery.
Simpson was sentenced to thirty-three years in prison on December 5, 2008, with the possibility of parole after nine years.
He served his sentence at the Lovelock Correctional Center.
The State of California claims Simpson owes $1.44 million in back taxes and a tax lien was filed against him on September 1, 1999.
In February 2001, Simpson was arrested in Miami-Dade County, Florida, for simple battery and burglary of an occupied conveyance. He had pulled the glasses off another motorist during a traffic dispute three months earlier. He was tried and quickly acquitted on both charges in October 2001.
On December 4, 2001, FBI searched Simpson's Miami home after receiving a tip that he was involved in a major drug trafficking ring. No illegal drugs were found, and he was not arrested or charged.
However, during the search, equipment capable of stealing satellite television programming were uncovered, and Simpson was eventually sued in federal court for it.
In July 2013, Simpson was granted parole for some of his convictions by the Nevada Parole Board.
However, he remained imprisoned for the weapons and assault convictions.
Finally, on July 20, 2017, the board granted Simpson full parole, and he was released on October 1, 2017.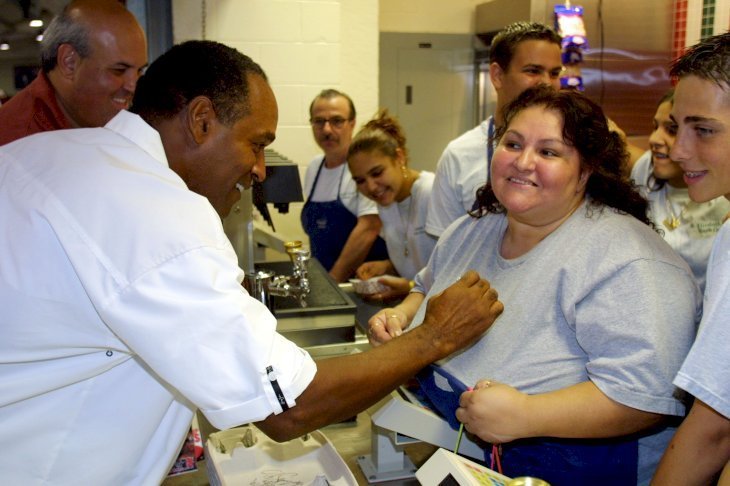 Getty Images
Fastest player to gain 1,000 rushing yards in a season: 1,025 in 7 games in 1973, and 1,005 in 7 games in 1975 (tied with Terrell Davis)
Fastest player to gain 2,000 rushing yards in a season: 2,003 in 14 games in 1973
Most rushing yards per game in a season: 143.1 per game in 1973
"The day you take complete responsibility for yourself, the day you stop making any excuses, that's the day you start to the top." ~ OJ Simpson
A computer game (from Banana Productions) entitled "O.J.'s All- American Race to Acquittal" debuted in January 1995, and reveals among other things that O.J.'s full name, Orenthal James Simpson, is an anagram of "O.J. on simple harassment"
Charged and tried for the murder of his wife Nicole Brown Simpson and her friend Ron Goldman in June 1994. In November 1995 he was found not guilty after 1-1/2 years of confinement.
Football player turned actor/sportscaster
Please fill in your e-mail so we can share with you our top stories!