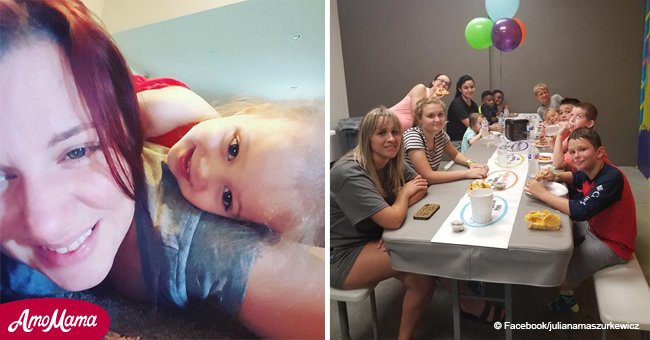 Daycare blasts parents with a 'rude' sign
Today's obsession with cell phones prompted a Texas daycare center to take a stand.
Juliana Farris Mazurkewicz decided to share a sign her daughter's daycare in Hockley, Texas, put up for incoming parents, reported Edition CNN.
The sign extolled parents to stop talking on their phones and to concentrate on their children's needs.
Which of us haven't seen people so engrossed with their texting or telephone conversation that they ignore the world around them including their families?
"We have seen children trying to hand their parents their work they completed and the parent is on the phone."
"YOU ARE PICKING UP YOUR CHILD! GET OFF YOUR PHONE!!!!"
When the startled Mazurkewicz saw the sign she took out her phone and photographed it, and she posted it to her Facebook page.
The impact of the post has been astounding, and it has been shared over 2 million times on Facebook alone, and transported to Twitter and Instagram.
"THE PARENT IS PAYING MORE ATTENTION TO THEIR PHONE THAN THEIR OWN CHILD"
This impact can perhaps be attributed to the pervasive use of the cell phone in today's society, where people have a constant need - almost a compulsion to be "connected" 100% of the time. This results in the individual disassociating from their 'real' life and the first to suffer are often their children.
SOME PARENTS WERE INDIGNANT AND SAID IT WAS "RIDICULOUS"
Mazurkewicz believes that the daycare staff had witnessed this behavior so frequently that they felt they could no longer be silent, but many parents were angry, protesting that the phone call might be 'important' work or 'urgent' matters that required their immediate attention.
"This is ridiculous. Who is anyone to tell a child's parent not to use their phone? They might be working? Or have an emergency or anything else that's none of their business."
Other parents supported the notice and agreed that it was painful to see a toddler competing with a cell phone for a parent attention and affection. A sign of the times...But what will be the outcome on these children in the future? Only time will tell.
THE SURPRISING BENEFITS OF DAYCARE
Those that have opted for daycare can rest easy. The result of a recent study carried out on the population showed that kids who attended daycare were, on the whole, better behaved and had a better understanding of social boundaries.
And those are not the only benefits. The study further ascertained that:
1. Daycare may reduce the risk of cancer. Researchers studied 280 cases of childhood cancer and found that kids who had been in daycare were less likely to have acute leukemias.
2. Daycare children tested higher on their IQ scores and had greater emotional intelligence.
3. Most college graduates were in daycare, so those children are more likely to get college degrees.
4. Daycare children started families later on and were less likely to be unplanned parents.
5. People raised in daycare have a lower rate of unemployment. At the age of 30 75% worked full-time in comparison to 53% of the stay-at-homes.
The statistics seem to be pointing the way. Children raised together in a warm supportive environment are better adapted, happier and more productive. It takes a village, and maybe daycare to raise a healthy child.
Please fill in your e-mail so we can share with you our top stories!