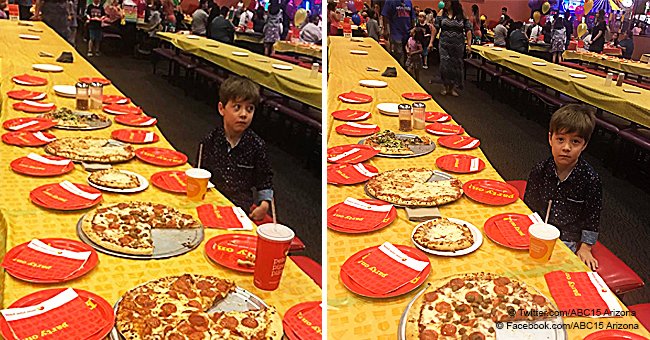 6-year-old spotted eating alone after no one showed up to his birthday party

A six-year-old from Tuscon, Arizona, was let down when none of his school friends showed up for his birthday party.
The boy, known only as Teddy, was looking forward to his party. His mother Sil Mazzini arranged that the festivities to take place at Peter Piper Pizza.
Read more on our Twitter account, @amomama_usa. Photos of his party can be seen below.
Ahead of the big date, Mazzini sent invites to 32 of his school friends and their parents. Sadly, none of them showed up.
According to his mother, several people confirmed that they would not be able to make it on that date. Others simply didn't even bother.
One of her friends posted photos of Teddy sitting alone at the Peter Piper Pizza table on Facebook, where it when viral within hours.
Messages of support poured in from all around the world. Instead of spending the day with his friends, his family read all the beautiful messages shared online.
His day might not have ended on a good note, but the story does have a happy ending.
Professional basketball team Phoenix Suns saw the photos and decided to put a smile on Teddy's face by inviting him tomorrow's games against the Lakers.
The Phoenix Rising Football Club also stepped up and invited young Teddy to their game on Friday. They tweeted:
"Teddy can get The Mala from [Venezias Pizza] and join 7,000 of his closest friends this Friday. Come on out Teddy!"
They added the hashtag "UpRising," and their tweet has endeared fans. A Twitter user known only as Ghost Rooney said:
"I will personally chip in to get Teddy a personalized kit of his choice if he wants to come out! I think we could even get the supporters section to sing him happy birthday at half!"
He urged his followers to do the same, and several netizens confirmed that they would contribute to his kit as well.
An account known as PRFC Fan Show even added that they would interview him for their show as well.
Please fill in your e-mail so we can share with you our top stories!