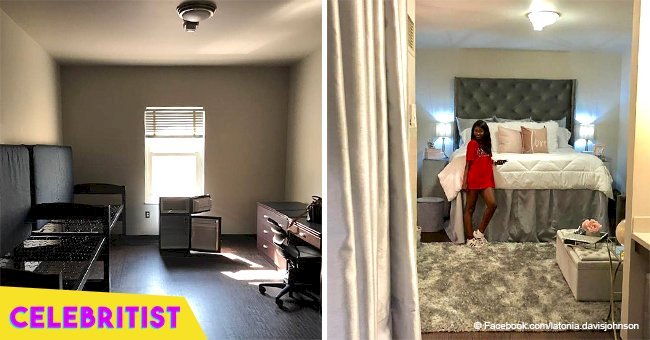 Student's dorm room goes viral after amazing makeover
One college freshman recently joined a growing trend of dorm room makeover, and the results were breathtaking. Scroll down for all the unbelievable before and after pics of her living space.
For many college students, it's no fun leaving home for a tiny dorm room usually shared with another person, so they've found a way to make the experience much more enjoyable. At least, if you're going to stress over being in school, you could as well do it in the coolest room ever.
Despite the stress that comes with campus move-in days, newcomers nowadays are always eager to get to work on transforming their drab spaces to glam quarters. One of such enthusiastic newcomers was Alanis Johnson, who was starting at the University of Mississippi.
Her mom, Latonia Davis-Johnson, took to Facebook with photos of what Alanis' room looked like and what it looked like after a session of DIY, and it's spectacular.
"Alanis is starting off in glam and comfort at the University of Mississippi! HOTTY TODDY!!" wrote, Latonia wrote, referring to the Ole Miss slogan.
Alanis took a bare room with sparse furniture and wooden floors and spruced it up with an elegant bed, minimalist yet unique storage ideas, artfully-placed mirrors, decorative light fixtures, plush carpets, inspirational wall decors, and lest we forget, lots and lots of pillows!
It wasn't just the new additions that took the room from Zero to Ten, but the coordinated and cohesive arrangement that makes it so pleasant to behold. Latona's post went viral in no time, attracting almost 17,000 shares and over 7,000 reactions.
But Alanis is not peculiar in her dorm room makeover project. As far back as 2016, Lindy Goodson and her roommate Abby Bozeman went viral after pictures of their revamped room turned up on social media.
The two girls began discussing their decoration plans since the December that preceded their move-in date in August 2016. They used headboards, fancy blinds, picture frames, and carpets to make their dorm room unrecognizable.
The Guardian reports that so ingrained is the tradition that students now hire interior design firms for their room overhaul and make sure to show off the results on Instagram.
It looks like we'll be seeing more dorm makeover projects for a long time.
Please fill in your e-mail so we can share with you our top stories!