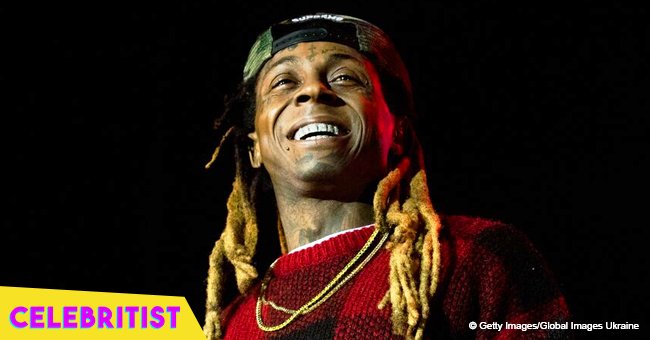 Lil Wayne poses with his kids in matching soccer jerseys for son's 10th birthday photo
Lil Wayne's family celebrates his son's birthday by donning soccer jerseys in keeping with the party's theme.
Lil Wayne who recently described himself as "the dad with the hat on" just put on his sports hat to celebrate his son's birthday. 10-year-old Dwayne Carter III had a soccer-themed party and his father dressed for the part.
In photos from little Dwayne III's special day, Wayne's squad shared a milestone moment dressed in matching soccer jerseys. The rapper and the birthday boy were joined by Dwayne III's mother Sarah Vivan, his half-sister, Reginae Carter, and half-brother Neal Carter.
The rapper went all out to make sure his son had the grandest time. Aside from a soccer cake, Dwayne III was treated to a game of soccer at the Mercedes-Benz Stadium in Atlanta. An added bonus was a one-on-one encounter with goalkeeper Brad Guzan who even posed for a photo with the little man.
Wayne has been very vocal lately about wanting to devote more time to his children. In fact, he's considering retiring from the music industry soon to focus on being a father. During his recent interview with GQ, he opened up about his reasons for wanting to turn his back from his career.
"Basically, I have been doing this for eighteen years. That's reason number one. I have accomplished all that I have set out to accomplish and more. But the main reason is my kids, my children. Now, if I thought I'd be selfish to my artists, imagine what I think I would be doing to my kids.I have enough money that they don't have to ever do anything—which, they will do everything, 'cause they ain't getting Shyte."
According to Wayne, he's giving himself six more years before seriously considering retirement and making his life all about his children.
"Six more years, I can do this Lil Wayne thing, and my boys will be about 7 and 8 years old. And man, it's all about them then. You know, whatever they're doing. Sports. Whatever they're into. That's where I am. I'm at every game. I'm the dad with the hat on. The jersey. That's me."
Wayne is currently a father to four children with four different women. His eldest, 19-year-old Reginae is the daughter of his ex-wife, Antonia Wright. After Dwayne III, he fathered 9-year-old Cameron Carter with actress Lauren London. Neal Carter was born just two months after Cameron was born. His mother is R&B singer Nivea. Wayne is reportedly expected to welcome his fifth child at the end of this year with his current girlfriend Dhea Sodano.
Incidentally, Wayne's sports crush, Skylar Diggins is expecting a child too. The WNBA player recently revealed she's pregnant with her first child with her husband, Daniel Smith. Skylar was previously linked to Wayne who publicly admired her by showing up in her games and wearing her basketball jersey. The rapper had competition though. Drake was also rumored to be crushing on the sports star. He even read poetry to her apart from posting a photo of him wearing her jersey. The singer didn't get far with Skylar who turned down his efforts to woo her.
Please fill in your e-mail so we can share with you our top stories!