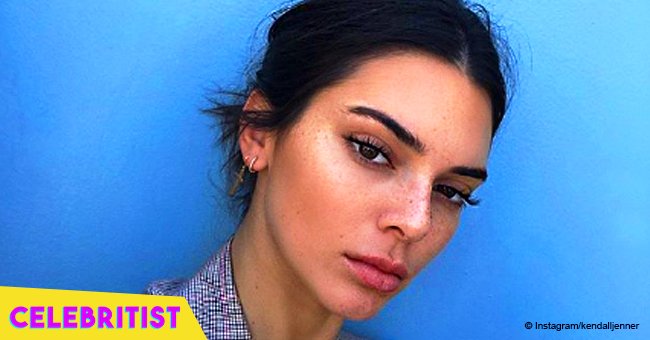 Kendall Jenner sparks controversy for rocking an 'afro' on Vogue magazine cover
Kendall Jenner's latest Vogue photo shoot is receiving negative attention of hair-raising proportions. In a series of photos, she fashions an "Afro" but gets slammed for cultural appropriation.
Kendall Jenner is the subject of a recent controversy involving her Vogue fashion shoot. To commemorate the 15th anniversary of the CFDA/Vogue Fashion Fund, Jenner was made to pose for a series of pics with fellow model, Imaan Hamman. A straight-haired Jenner was styled with what appeared to be an Afro while Hamaan's curly locks were straightened out. The result was a provocative photo spread that invited a lot of attention but not for the reasons the magazine intended.
Fans slammed Jenner for inappropriately channeling the Afro look. Some questioned why the magazine didn't think of hiring a model with a natural Afro instead of faking one with Jenner. Others felt hurt and insulted.
"Does her hair really look like that on a daily basis? Is she African American? Why couldn't y'all get a girl with a real fro on the cover if y'all wanted a fro so bad!' someone This is not cool at all! It has to stop!"
"There are other models @voguemagazine you could really get a real Afro model tsk tsk."
"As a black teen growing up in America, this was absolutely hurtful to look at, people keep bringing up that black women wear weaves that are straight. Yeah we wear them because America poisoned black culture with the idea that we need relaxers and to be accepted our hair had to be straight."
"I grew up not seeing one Disney kid with natural hair until KC undercover @zendaya. This is not something that can be shrugged off because the message is hurtful."
"Kendall seems like a girl who is smart and intelligent enough to know that people were going to have something to say about this look and maybe should've chose a different hairstyle. This situation isn't about her it's the message that projects from this image."
Even Charlemagne Tha God had something to say when the press caught up with him at Barnes & Noble where he was promoting his new book, "Shook One." The radio host said,
"That [explicit language] is no 'fro."
However, he said he didn't feel offended by the photo.
There were also those who defended Jenner by insisting her hair was not meant to be an Afro but a hairstyle reflecting a trend in fashion history. This was exactly how Vogue explained it when the publication came to Jenner's defense and apologized for the misconception.
"The image is meant to be an update of the romantic Edwardian/Gibson Girl hair which suits the period feel of the Brock Collection, and also the big hair of the '60s and the early '70s, that puffed-out, teased-out look of those eras. We apologize if it came across differently than intended, and we certainly did not mean to offend anyone by it."
In the middle of it all is Jenner who has yet to air her side on the issue. The "Keeping Up With The Kardashians" star isn't new to backlash brought about by her job. In 2017, she took the heat after appearing in a controversial Pepsi ad which seemed to make light of a serious issue involving protester Iesha Evans.
The soda company pulled the ad a day later and apologized for it. The brand also apologized to Jenner who later confessed to hiding out after the incident. She told Vogue a year later,
"Honestly, I just hid out. It hurt me that I hurt other people. I am a huge people pleaser, and that is what my job has always been: You come to set and you do what you're told."
It's safe to assume Jenner's reaction to the latest controversy would reflect this same sentiment. She was hired for a job and she did it.
Meanwhile, Jenner had a different reaction to her dog almost attacking a young girl. The 22-year-old was having lunch with her boyfriend Ben Simmons when her Doberman Pinscher almost bit a girl sitting on the patio with her mother. Jenner showed concern by staying until she was sure the girl was uninjured. It turns out the dog never made any contact with the girl who was merely startled by its presence. Though the dog was wearing a harness at the time, the matter was forwarded to Animal Control.
Please fill in your e-mail so we can share with you our top stories!